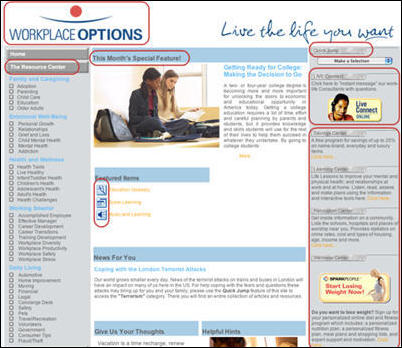 Awareness, or lack of, is the number one reason employees give for not participating in their company's work-life programs
Raleigh, NC (PRWEB) January 11, 2007
Workplace Options, the largest provider of work-life employee benefits in America, has released its 2007 Work-Life Promotional Kit. The kit provides Employee Assistance Programs (EAP) and employers with a proven strategic promotional plan to help increase awareness and participation in work-life employee benefits programs.
Workplace Options began developing the Work-life Promotional Kit in 2001 to help organizations effectively market and communicate their work-life services. Over the years, the promotional kit has evolved right along with technology. Beginning as a printed packet of information, the kit is now an interactive CD-ROM with a user friendly menu and customizable materials which help companies retain their own brand recognition.
"Awareness, or lack of, is the number one reason employees give for not participating in their company's work-life programs," said Alan King, president of WPO. "The promotional kit helps promote program awareness and allows HR leaders to show employees they are indeed looking out for their best interest, something every HR practitioner likes their employees to know is true."
The WPO 2007 Promotional Kit is organized into three sections: (1) promotion for sales and marketing; (2) promotion for new client roll-out (implementation); and, (3) promotion to existing clients. Files of the collateral are provided in both MS Word and PDF. The files are easily customized with respect to content, branding and access information - a necessity for the EAP.
The promotion campaigns are designed to highlight various aspects of work-life including child care, elder care, mid-life, wellness, daily living and personal finance.
Highlights of the 2007 WPO Promotional Kit include:
Sales and Marketing Support
Making the business case for work-life

Product catalog and brochure. Includes information on WPOs new International Services and Provider Network Management capabilities.
Power Point presentation that describes the work-life employee benefit
Implementation and Ongoing Promotions
Best-practices for executing a strategic promotional plan
2007 monthly calendar of work-life themes and dates of WPO webinars relating to the theme.
Monthly posters: each on a variation of the theme: "Life Happens. We Help."
Info on WPO's award winning user website
Email/Direct Mail Materials in both HTML and text
Professionally designed slideshow for use during new employee orientations.
In addition to the resources on the CD, WPO provides continuous and ongoing service promotion support through monthly e-mail messages, quarterly newsletters and other marketing tools.
About Workplace Options
Workplace Options (WPO) is America's largest provider of work-life services. WPO's market leading products are recognized for their innovative web delivery, flexibility and affordable pricing. Through its emindhealth division, WPO offers network management solutions that help EAP's run their businesses more profitably and efficiently. WPO's United Kingdom division, Employee Advisory Resource (EAR), is a premier provider of work-life services in Europe and offers EAP clients access to an expansive network of behavioral health providers throughout Europe and the World. Learn more at http://www.workplaceoptions.com.
This press release was distributed through eMediawire by Human Resources Marketer (HR Marketer: http://www.HRmarketer.com) on behalf of the company listed above.
###