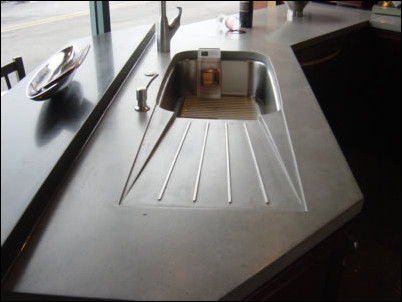 Yucaipa, CA (PRWEB) January 12, 2007
Start the new year off on the right foot -- bring your kitchen remodel to life with a new decorative concrete countertop, custom made to fit your style and décor. The Concrete Network, the largest and most comprehensive source for concrete information on the web, offers a one-of-a-kind online photo gallery exhibiting a range of custom concrete countertops from sleek, functional designs to elaborately designed pieces.
Visit the concrete countertop gallery for design ideas and features, and color options and examples. Filled with a multitude of photos, exhibiting today's top trends in creating custom concrete countertops, the gallery provides ideas on enhancing and beautifying the surfaces of your home or office kitchen area using extraordinary decorative concrete techniques.
Concrete's irresistible appeal can be attributed to its versatility, its look of distinction, its natural qualities, and superior craftsmanship. Concrete can be formed in any shape or size, and can be colored to match nearly any hue. Homeowners particularly find concrete engaging because it can blend with a range of styles and fit any existing decor, and can be completely personalized.
The concrete photo gallery is updated every Friday offering new photos of custom and unique designs and applications. Photos for the photo gallery have been collected from contractors around the United States and Canada and are for design idea purposes only.
Established in 1999, The Concrete Network's purpose is to educate consumers, builders, and contractors on popular decorative techniques and applications including stamped concrete, stained concrete floors, concrete countertops, polished concrete, and much more. Over 800,000 visitors research The Concrete Network Web site per month.
The site excels at connecting buyers with local contractors in their area through its Find-A-Contractor service. The service provides visitors with a list of decorative concrete contractors throughout the U.S. and Canada, and is fully searchable by 22 types of decorative concrete work and 199 metropolitan areas throughout North America.
Article and attached photos courtesy of Two Stones Design.
###