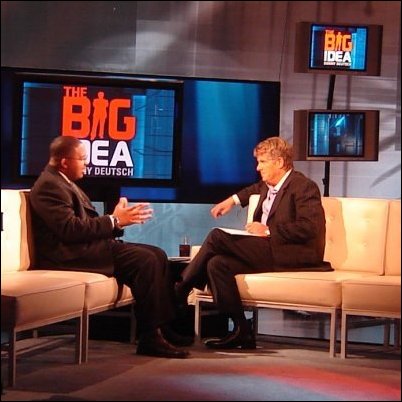 New York, NY (PRWEB) January 10, 2007
City Capital Corporation (OTCBB: CCCN) CEO Ephren W. Taylor II is a featured guest Wednesday on CNBC's "The BIG Idea" show, hosted by Donny Deutsch. Along with Mr. Taylor, Deutsch will speak with Farrah Gray and Cameron Johnson. The show will air on CNBC at 10 p.m. Eastern Standard Time on Wednesday, January 10, 2007.
Mr. Taylor was in New York serving as panelist for the 10th Annual Wall Street Economic Summit when asked to appear on the show. He recently signed a $50,000,000 equity line with The Lucian Group of Rochester, NY. Principles of Lucien were in the audience during the filming of the show. City Capital is actively engaged in expanding its scope of investments, creating economically-sound, socially-conscious investments that give back to local communities, and creating affordable housing for working class families nationwide.
At 24 years old, Mr. Taylor is the youngest African American CEO of any public company in history. Taylor, along with Mr. Gray (age 22) and Mr. Johnson (age 22), represent young entrepreneurial millionaires and role models for millions of young Americans. Beginning at age 12 with a software company, by 17 Mr. Taylor built a national company to over $3.5 million value.
Taylor's concepts on empowering local communities with socially-conscious investing and development earned him the distinguished 2002 Kansas Young Entrepreneur of the Year Award, and form the core principles of City Capital. Today, Taylor's concepts have resulted in two public companies (City Capital Corporation (OTCBB:CCCN) and AmoroCorp (OTCBB:AORO) Taylor serves as CEO of both.
"Before the show the three of us were talking and we all agreed it's not rocket science. For me, as for many entrepreneurs, the opportunities and their solutions are often obvious. So many people think going into business is so overwhelming. I think many times financial considerations seem overwhelming, but there is a more than ample availability of funding for valid projects today. Our $50 Million line with Lucien will help us to accelerate what we have already been doing for several years: leveraging investments, holdings and other assets to build value for investors and shareholders, while creating positive change in communities nationwide."
City Capital Corporation (OTC:CCCN) is engaged in leveraging investments, holdings and other assets to create self-sufficiency for communities around the country and the world. City Capital currently manages diverse assets and holdings including real estate developments, such as the Kansas City (Missouri) Historic Jazz District redevelopment, oil and gas, and more.
This release contains "forward-looking statements" based on current expectations but involving known and unknown risks and uncertainties, including those described in the Company's annual report on Form 10-KSB for the year ended December 31, 2005, that could cause actual events or results to differ materially from the events or results described in the forward-looking statements, whether as a result of new information, future events or otherwise. The Company's plans and objectives are based on assumptions involving judgments with respect to future economic, competitive and market conditions, its ability to consummate, and the timing of, acquisitions and future business decisions, all of which are difficult or impossible to predict accurately and many of which are beyond the Company's control. Therefore, there can be no assurance that any forward-looking statement will prove to be accurate. The Company makes no undertaking to update such forward-looking statements.
City Capital:
IR@ citycapitalcorp.net/
http://www.citycapitalcorp.net
877-367-1463
# # #