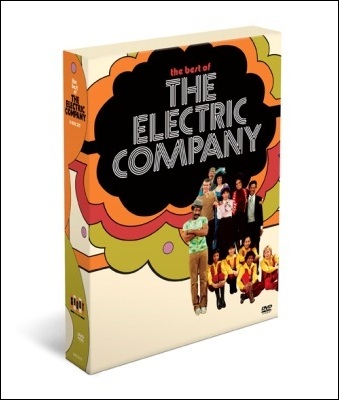 Moms are the toughest critics when it comes to children's programming
Los Angeles, CA (PRWEB) January 11, 2007
Parenting magazine has awarded Shout! Factory's The Best Of The Electric Company DVD box set its highly sought-after Mom Tested™ seal and praised the four-disc set as one of the "Best DVDs of the Year" for children ages five and up.
Announced in the February 2007 issue, products compiled by experts and Parenting's editorial staff were handed over to moms across the country for real-world testing with their own families in order to name the very best in child-friendly entertainment. Judges wrote that the series "will pull kids in today just as it did 30 years ago."
"Moms are the toughest critics when it comes to children's programming," said Shout! Factory President Garson Foos. "It was always our hope that the show would appeal to a new generation of families and it's thrilling to see the show get this kind of recognition thirty years after 'The Electric Company' went off the air."
The Emmy®-winning children's program was created by the non-profit Children's Television Workshop (now Sesame Workshop) and featured an ensemble cast with Morgan Freeman, Bill Cosby and Rita Moreno, with voice-overs by Mel Brooks, Gene Wilder, Joan Rivers and Zero Mostel. With its roots in the Motown Sound and Broadway, "The Electric Company" became a cultural phenomenon of the '70s, teaching children basic reading and grammar skills, with an emphasis on fun. Targeting children aged six to ten, the show aimed to teach basic reading and grammar skills to its young viewers through sketch comedy, songs and animation.
The Best Of The Electric Company four-DVD set features 20 of the best episodes, along with a wealth of bonus programming, for the suggested list price of $49.98. As with all Sesame Workshop products, proceeds from the sales of the DVD's will help fund their educational projects around the world. For more information on this and other Shout! Factory products, visit http://www.shoutfactory.com.
Also available on DVD, The Best Of The Electric Company: Volume Two is a four-DVD set featuring 20 more of the show's best-loved episodes for the suggested list price of $49.98.
Coming soon to TV and DVD, The Electric Company's Greatest Hits & Bits is a clip-filled celebration of the show's most popular segments, featuring new interviews with Joan Rivers, Rita Moreno, Tom Lehrer and others.
Shout! Factory is a diversified entertainment company devoted to producing, uncovering and revitalizing the very best of pop culture - The Stuff You Grew Up On But Never Outgrew. Founders Richard Foos, Bob Emmer and Garson Foos have spent their careers sharing their music, television and film faves with discerning consumers the world over. Shout! Factory's DVD offerings serve up classic, contemporary and cult TV series, riveting sports programs, live music, animation and documentaries in lavish packages crammed with extras. The company's audio catalogue boasts Grammy®-nominated boxed sets, new releases from storied artists and lovingly assembled album reissues. These riches are the result of a creative acquisitions mandate that has established the company as a hotbed of cultural preservation and commercial reinvention. For more on Shout! Factory, visit http://www.shoutfactory.com.
Parenting, with a guaranteed circulation of 2,150,000 and a readership of over 11 million, is the nation's leading magazine for moms. It provides the emotional support and affirmation they want and the mom-tested information and ideas they can really use. Parenting is the flagship magazine of The Parenting Group, which includes the monthly Babytalk magazine and its siblings Babytalk First Months and Babytalk Mom-to-Be. The Parenting Group's other extensions include: a sampling operation, First Moments; a website, Parenting.com; a custom publishing unit, and MomConnection®, an online research community. Taken cumulatively, Parenting Group properties deliver over 20 million consumer touchpoints each month. The Group is a division of Time Inc., a wholly owned subsidiary of Time Warner Inc.
CONTACT: Jason Allen / (310) 979-5602
# # #