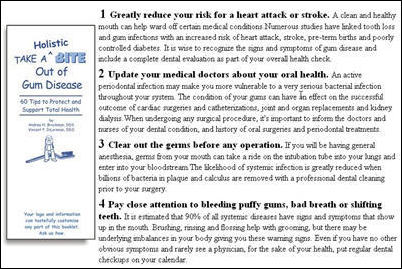 It is inconsistent for society to recognize that oral health is important, yet treat dental care as if it were discretionary
Philadelphia, PA (PRWEB) January 11, 2007
While health insurance premiums continue to escalate as utilization goes up for medical treatment of chronic health conditions, mounting evidence is linking poor oral health to more serious health problems such as diabetes, cardiovascular disease, and pre-term births.
Research studies in prestigious dental and medical journals such as the Journal of Periodontology and the Journal of the American Medical Association are helping healthcare professionals understand the links of periodontal disease and systemic health. In efforts to avoid high dental costs and other related health risks, employers are now showing an interest in benefit programs than can help employees become better informed and improve their oral health.
These findings and more are covered in OraMedica's new white paper titled "Reining in Runaway Healthcare Costs…A Dental Advocacy Approach." The free report can be downloaded at: http://www.oramedica.com/whitepapers.html
According to a 2000 report by the U.S. Surgeon General, over 100 million Americans are not covered by dental insurance. Those that have access to dental care may still be hampered by rising out-of-pocket expenses, fear of the dentist, or lack of knowledge of health implications -- conditions that represent a large percentage of what companies spend on employee's health care.
"It is inconsistent for society to recognize that oral health is important, yet treat dental care as if it were discretionary," notes William Maas, the Director of Oral Health at the U.S. Centers for Disease Control.
As evidence of the link between oral health and disease prevention, an article in the September 24, 2006 Wall Street Journal reported that several dental insurance carriers are expanding their coverage for diabetics and pregnant women to include additional dental hygiene cleanings.
In response to this growing crisis, OraMedica International, LLC -- a leading provider of consumer dental health and wellness education programs since 2003 -- is launching a new employee benefit program that delivers health-conscious dental information that can help with preventative measures, and treatment decisions, as well as dental and medical expenditures.
The HealthyGates Dental Consumer Advocacy Program includes: holistic dental health tips booklets, a 3,000 word glossary of dental terms, a complete guide to dental procedures and conditions, fee schedules, insurance optimization, and dental risk assessments. OraMedica International also offers Webinars, newsletters, teleclasses, and a membership site with access to information resources and healthy products.
About OraMedica International, LLC
OraMedica International, LLC (http://www.oramedica.com) is a dental health and wellness company that provides dental advocacy educational products, programming, and insurance strategies for businesses, organizations, and insurance companies to lower health care costs and increase productivity in the workplace. Employers are offered a health cost-containing risk-lowering dental benefit that is a critical yet missing component to most corporate health and wellness initiatives.
This press release was distributed through eMediawire by Human Resources Marketer (HR Marketer: http://www.HRmarketer.com) on behalf of the company listed above.
# # #