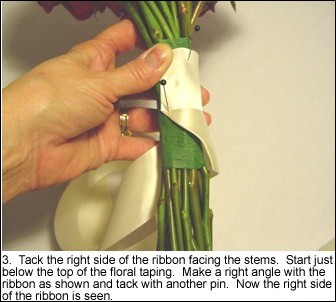 Every bride deserves beautiful flowers, and gorgeous wedding flowers shouldn't have to cost a fortune
Tulsa, OK (PRWEB) January 11, 2007
As more and more brides-to-be are looking for a less expensive way to have the wedding of their dreams, a "do-it-yourself" trend has begun to gain momentum in the wedding planning industry, particularly for wedding flowers. Unfortunately for many brides, without the guidance of an experienced florist many of these DIY wedding flowers end up wilted or falling apart when the big day arrives.
Wedding Flowers-DIY has changed all that. "Every bride deserves beautiful flowers, and gorgeous wedding flowers shouldn't have to cost a fortune," said Jo Lind, owner of Wedding Flowers-DIY. "Our step-by-step wedding flowers design tutorials give brides the tips and tricks of a trained florist to help make their wedding flower arrangements beautiful, and keep them that way all the way up to their special day."
The Wedding Flowers-DIY floral design tutorials contain step-by-step photographs and easy to follow instructions to create dozens of different bouquet styles, centerpieces, and ceremony and reception decorative arrangements, including:
Hand-tied nosegays, pomanders, and cascade and wand bouquets
Boutonnieres and corsages
Special flower arrangements for flower girls and ring bearers
How to wrap or band stems so the arrangements won't fall apart
A wide variety of imaginative, yet easy centerpieces
Decorating cakes like a pro
Jo Lind also provides free consultation for six months with every purchase. She also provides a free, in depth guide to planning, designing, and creating wedding flowers. For brides who don't yet have a clear idea of their perfect wedding flowers or need a little creative inspiration, an online gallery is available at http://www.WeddingFlowers-DIY.com with examples of these and other wedding flower styles included in the DIY wedding flowers tutorials, arranged by style and color.
Visit http://www.WeddingFlowers-DIY.com today to learn more about creating beautiful wedding flower arrangements with a professional look at a do-it-yourself price. Visitors will also receive a free bow tutorial and general tips for making and storing DIY wedding flowers.
About Wedding Flowers-DIY
After creating wedding flower arrangements for five family weddings in eight months on a shoestring budget, Jo Lind had learned a lot about do-it-yourself wedding flowers. She reinforced her hard-won knowledge with floral arrangement classes, finally becoming a certified Master Florist and training under some of Oklahoma's top floral designers. In the last few years, Lind has created beautiful floral arrangements for hundreds of large and small weddings, and visited dozens of bridal fairs to keep up with current trends. Wedding Flowers-DIY takes her experience and knowledge and makes it easily accessible to brides-to-be working on their own shoestring budgets.
Xeal Inc. Press Release Writing and Advertising
###