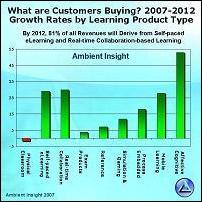 I will also discuss some exciting emerging trends in simulation and cognitive learning.
Seattle, WA (PRWEB) January 12, 2007
Ambient Insight returns with their popular annual event describing the hottest learning products for the coming year. On January 18th, Sam S. Adkins, Chief Research Officer, will present key findings from recent Ambient Insight research. While the yearly session does not include a crystal ball, attendees have profited from Adkins' ability to plot the evolution of the industry.
"I always tell people this session is not about predictions, but about what customers are buying or not buying," comments Adkins. "However, the audience at this event always expects me to identify the latest innovations and trends as well. So, I get to highlight leading indicators and emerging products too."
Join Ambient Insight in this Elluminate Live ! Webinar at 2:00 pm EST (11:00 am PST) on Thursday, January 18th. To register visit:
http://sas.elluminate.com/site/external/event/description?instance_id=5993
Some of the key findings that Adkins will discuss include: the rapid adoption of Mobile Learning in the healthcare and consumer segments, the booming demand for eLearning in the academic segments, the demand for inexpensive LMS appliances, the steady growth of Open Source learning platforms, and the dominance of Real-time Collaboration-based Learning in all the buying segments.
"Some of the most compelling innovations are coming from the convergence of mlearning and collaborative learning," adds Adkins. "I will also discuss some exciting emerging trends in simulation and cognitive learning."
Adkins has been providing market research and analysis on the learning industry for over fifteen years and has been involved with electronic training technology for over twenty years. He is now one of the most experienced and well-respected experts in the industry. Coming from a long career based on developing and shipping commercial products, he specializes in identifying revenue growth for suppliers.
About Ambient Insight LLC
We identify revenue opportunities for suppliers. Ambient Insight is the only research firm that has developed a learning product taxonomy based on pedagogy and information architecture principles. We cover all the buying segments, not just corporate. Suppliers need precise product definitions and forecasts across all buyer segments to compete in today's training and education industry. Visit us at: http://www.ambientinsight.com
For more information, please contact:
Sam S. Adkins, Chief Research Officer
Ambient Insight LLC
360-805-4298
# # #