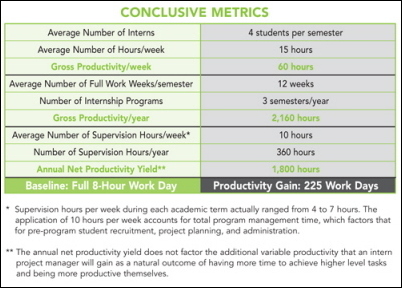 Small- to mid-size employers can especially benefit from adding student productivity
Newtown, PA (PRWEB) January 11, 2007
Z University.org (ZU), an innovative workforce readiness company dedicated to internship excellence, has completed a five-year study which demonstrates that employers can utilize college interns to gain substantial productivity gains and even do so without hosting students on-site.
The study, which was conducted through "live" internship programs through 14 academic terms, also applied a unique virtual program management model. ZU's initiative removes three specific barriers for employers to create successful internships:
Time: Companies can significantly boost workplace productivity by putting students to work. A single, qualified manager can gain 225 full 8-hour workdays in a calendar year
Space: A virtual program proves that companies needn't have office space or incur onsite technology costs to manage interns effectively.
Ability: The most critical barrier now removed involves a complete system, called Intern Toolkit™, that ZU developed for employers to create, manage and maintain highly effective internship programs.
The study was led by Matthew Zinman, president of Z University.org, who developed the virtual internship model, personally managed the student intern participants, and integrated into Intern Toolkit the practical systems and insights he gained through the program experience.
"A common misconception is that organizations and individuals don't have the time to run an internship program," Zinman explains. "What employers and managers need to realize is that they don't have the time not to have interns. The students are highly capable of contributing all kinds of business value. And, when well-managed, the amount of time that interns contribute yields far more productivity."
Using ZU's program management tools with the virtual model, Zinman consistently managed four interns at an average of 15 hours per week over the course of all three academic terms, each of which included a minimum of 12 weeks per semester. He applied a maximum average of 10 hours per week to run the program, including initial recruiting and project planning, active intern management and training, ongoing performance metrics, and general administration. The total productivity yield, which includes Zinman's management time, averaged approximately 1,800 work hours per year. When divided by an eight-hour work day, an intern manager can gain a minimum of 225 full days on their annual productivity calendar. This calculation does not factor the manager's ability to apply their time and skills more effectively to achieve higher level tasks.
"Simply put, interns can help a company do more. All employers need to do is make an organization commitment to an internship system and have supervisors reprioritize some of their time to oversee students and get projects off the proverbial backburner," Zinman explains. "Examples range from supporting marketing efforts and operational needs to gathering business intelligence and augmenting work for clients and partners. Students also possess knowledge and skills that employees may not, including technology expertise, research methodologies, and applied classroom learning of any career-specific capabilities.
"Small- to mid-size employers can especially benefit from adding student productivity," Zinman notes. "However, these businesses typically lack the HR personnel and other resources to structure an internship program the right way. We've developed Intern Toolkit to remove that barrier and give employers everything needed to have and manage an internship program most easily and effectively. We are working to encourage and enable both businesses and students to open the world of opportunity that internships create."
The virtual internship model that ZU utilized and refined to manage its program will be featured in a detailed white paper, which ZU will release in early 2007. However, the work model is very similar to what students experience in doing their coursework. The interns attended one or two group and individual meetings per week with Zinman to review assignments, participate in training, and delegate new projects, which they then completed on their own.
"The dynamics of running a virtual internship are quite different than traditional programs," Zinman explains. "We are developing our white paper to help the many businesses that lack the resources to host interns on-site."
Z University.org has already removed a major barrier with its innovation of Intern Toolkit™ - the first and only complete resource to help employers manage internship programs. It features nearly 60 components among seven modules: Program Planning; Recruitment; Screening and Hiring; Orientation; Work Management; Performance Measurement; and, Skills Development.
Intern Toolkit makes it easy for employers and non-profit organizations to run an internship program in a way that increases productivity -- as proven in ZU's study -- and raises the quality of the internship experience for students to gain vital career experience that prepares them for the workforce. It is available for purchase online at http://www.InternToolkit.com. The contents are organized in a tabbed spiral binder as well as accessible for electronic download, so users can adapt and make its many tools their own.
About Z University
Z University.org (ZU) is making internship programs a powerful remedy to close the gap between classroom learning and workplace competency. In addition to its many initiatives to educate, collaborate and advocate, ZU's primary focus is to innovate solutions that, in effect, remove the barriers for students to gain valuable experience and for employers to gain valuable productivity and better future employees.
Z University developed Intern Toolkit to make it more feasible for employers to create, manage and improve internship programs and all forms of experiential learning. It's by far, the most complete resource to convert student talent and skills into profit for employers and provide vital practical experience and career training for students to succeed as they enter the workforce. ZU is developing more innovative products and resources to fulfill its mission.
Z University.org also established The Internship Institute as a non-profit to champion positive change in every way possible. The Institute's leadership advocacy supports initiatives to promote need to make internships mandatory, to treat and compensate interns fairly, and to encourage employers to assume their inherent social responsibility and motivation to put students to work.
The Internship Institute also aims to pursue opportunities that advance experiential education, create scholarship programs for non-paid interns, formalize its intern mentoring curriculum, perform meaningful market research, provide subsidies to other non-profit organizations, and inspire action among employers, students, and academic professionals to improve workforce readiness.
Media Contact
Matthew Zinman, President and Founder
email: NewsInquiry(at)ZUniversity.org, or call 1-877-ZU2GROW (1-877-982-4769)
This press release was distributed through eMediawire by Human Resources Marketer (HR Marketer: http://www.HRmarketer.com) on behalf of the company listed above.
###