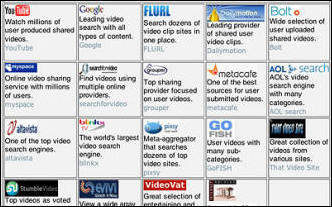 Los Angeles, CA (PRWEB) January 11, 2007
OVGuide.com, which is an online guide to the best video sites on the web, was selected as one of Time Magazine's top 10 best new websites for 2006. TIME presented their 25 Top Ten Lists for 2006 this past December. The topics included top 10 lists for movies, TV shows, and other categories. OVGuide connects users with sites like YouTube and other video providers, including dozens of excellent other ones that most people have never heard about. One can look up or search for professional clips and full-length videos from places like the History Channel, Oprah, and the major television networks. If you missed an episode of one of your favorite TV shows, like Grey's Anatomy or CSI, you can probably find a link to it on OVGuide.
"When we first created OVGuide in July of 2006, it started out as a simple list of video sites. We had YouTube, My Space, and a few other major video sharing sites. There was a real concern at the time that there may not be enough content to make the guide useful," said Dale Bock, who is the company founder. "It took us weeks of scouring the web to find the initial set of video sites. However, over the past few months there has been an explosive growth of new video sites."
OVGuide now has over 350 quality video sites divided into several major categories, and the list keeps growing each day with great new video sites added daily. Many of the video site listings come from suggestions people send to the guide. Editors then determine if it is worth listing, which helps to keep up the quality of the material.
It is a simple concept, but filled a void that separated consumers from quality video content sites. Companies and individuals were putting together great video sites, including the major TV networks, but besides YouTube, few people knew where to find them. OVGuide opens up the world of online video beyond what people normally expect. The diversity, quality, and content of free online programming is just amazing. It is like cable TV on steroids. However, one needs to know where to find it, which is where OVGuide plays a role. The movies and TV section is the most popular OVGuide viewing area, but the other categories are great too. The OVGuide education section even has links that let a person watch an entire semester of classes from schools like Stanford or MIT, and it is all free.
In addition to helping surfers find something good to watch online, OVGuide has many interactive personalization features that let them share sites with a friend, or create their own personal channel network of favorite video sites. Users can even add their own video site links or individual videos, and then share that created network with other people. OVGuide has the potential to change the way people use the internet by opening their eyes to the new world of online video.
###