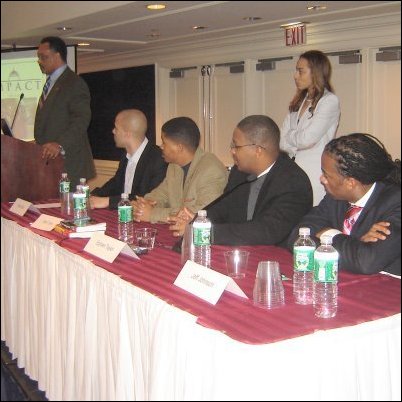 New York, NY (PRWEB) January 12, 2007
(OTCBB: CCCN) -- City Capital Corporation CEO Ephren W. Taylor II served as guest panelist for the 10th Annual Wall Street Project Economic Summit. Over 4000 registrants and attendees were estimated to be present at this year's event, the largest of its kind. The event spanned four days of presentations, roundtables and strategy sessions featuring dozens of national business and political leaders.
Mr. Taylor was asked specifically to discuss what individuals and community leaders can do to economically empower individuals to succeed in America's urban communities. Mr. Taylor commented, "Our entire company is focused on empowering local communities as a business model. We have proven it is possible to build for-profit businesses that are economically-sound and socially-conscious -- that give back to local communities. Instead of looking outside our communities for assistance, we need to tap the incredible talent, resources and money within our urban communities and make positive changes ourselves."
City Capital recently signed a $50,000,000 equity line agreement with Rochester-based Lucien Group, to accelerate its community investment programs, and create affordable homes for working-class families. City Capital is engaged in leveraging investments, holdings and other assets to build value for investors and shareholders, while creating positive change in communities nationwide.
Jessie Jackson, Sr., President and Founder of Rainbow PUSH, challenged the panel and Summit attendees to specifically address strategic connectivity and entrepreneurship for economic growth. Other panelists included Ryan Scott, Co-Founder and Director, Economic Development for IMPACT; Jeff Johnson, 33, CEO, Truth is Power and BET Host & Producer; and New York Times Best-Selling Author & CEO Omar Tyree, 37. Angela Rye, Co-Founder & Director, Strategic Partnerships IMPACT, Moderated.
City Capital Corporation (OTC:CCCN) is engaged in leveraging investments, holdings and other assets to create self-sufficiency for communities around the country and the world. City Capital currently manages diverse assets and holdings including real estate developments, such as the Kansas City (Missouri) Historic Jazz District redevelopment; buying, selling & drilling of oil & gas properties, and more.
This release contains "forward-looking statements" based on current expectations but involving known and unknown risks and uncertainties, including those described in the Company's annual report on Form 10-KSB for the year ended December 31, 2005, that could cause actual events or results to differ materially from the events or results described in the forward-looking statements, whether as a result of new information, future events or otherwise. The Company's plans and objectives are based on assumptions involving judgments with respect to future economic, competitive and market conditions, its ability to consummate, and the timing of, acquisitions and future business decisions, all of which are difficult or impossible to predict accurately and many of which are beyond the Company's control. Therefore, there can be no assurance that any forward-looking statement will prove to be accurate. The Company makes no undertaking to update such forward-looking statements.
City Capital Corporation (OTCBB:CCCN)
http://www.citycapitalcorp.net
877-367-1463
For speaking engagements featuring Mr. Taylor, contact Ascendant Strategy Group, LLC. ASG works with top business, education, and community leaders to provide quality expert lectures, consulting, and programming services to educational, non-profit, private and public organizations.
http://www.ascendantstrategy.net 215.492.8981
The Wall Street Project Economic Summit is produced by Reverend Jessie Jackson's Rainbow PUSH organization. Its mission is to challenge corporate America to invest in minority vendors, consumers and employees. http://www.rainbowpush.org & http://www.wallstreetproject.org.
Washington DC-Based IMPACT sponsored the forum. IMPACT's core mission is to inform and connect emerging leaders through economic empowerment, civic engagement, and political involvement. http://www.impact-dc.com.
# # #