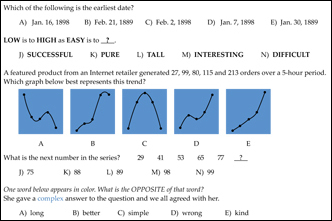 Many organizations have been using the WPT for decades
Libertybille, IL (PRWEB) January 12, 2007
Wonderlic, Inc., will introduce the latest version of its renowned intelligence test, the Wonderlic Personnel Test - Revised (WPT-R), on January 16, 2007.
Development of the new version, the WPT-R, required years of research, and thousands of field tests administered by clients to their job applicants. The 12-minute test of cognitive ability, or general intelligence, has been taken by more than 125 million people since 1937 - leaving the revision with some oversized shoes to fill.
"Many organizations have been using the WPT for decades," explains Charles F. Wonderlic, President and CEO. "It is as much a part of their corporate culture as it is our own. If we were going to replace that test, it had to be substantially better without losing the essential characteristics valued by those clients."
To ensure that clients were involved in every step of the process, the WPT-R went through five separate rounds of field testing involving 427 companies and 36,543 test takers. The resulting new forms of the WPT-R incorporate the latest advances in test development and scoring, which makes it an even more accurate predictor of success on the job.
The items on the test are designed for working adults and range from general math and English to syllogisms and spatial relations items. In field testing, test takers were very comfortable with the new format and item content of the WPT-R.
"The biggest change is in the accuracy of administration and scoring," says Executive Vice President Winnie Clonts. The WPT-R is administered online or using a bubble form answer sheet and is scored by Wonderlic itself. "This eliminates the human error associated with hand scoring. We also provide an online database of scores and other job applicant information to facilitate better hiring decisions."
About Wonderlic
The Wonderlic Personnel Test is a 12-minute test of cognitive ability, or general intelligence, which has been taken by more than 125 million people since 1937. Wonderlic serves thousands of clients, including the NFL Combine, which has used the Wonderlic Personnel Test for more than 30 years as part of its draft selection process. Wonderlic tests are referenced in hundreds of books on psychology and have been featured on Dateline, CNBC, Lifetime, CNNfn, and 20/20. More than 130 million people have taken Wonderlic assessments.
For more information Call Leah Anchor, Marketing Project Coordinator, at (800) 323-3742.
This press release was distributed through eMediawire by Human Resources Marketer (HR Marketer: http://www.HRmarketer.com) on behalf of the company listed above.
###