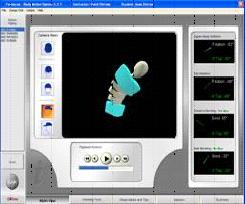 iClub has created the world's most advanced body motion capture system. This is a wonderful assessment tool that fits perfectly with our www.westchester.fitgolf.com [golf training programs], and therapeutic treatment programs
Hawthorne, NY, (PRWEB) January 15, 2007
iClub, the leader in wireless motion capture and golf training aid technology, and Body Balance for Performance, the nation's largest chain of centers offering complete golf fitness and training programs, have announced their joint partnership.
"Body Balance leads the nation in golf fitness and physical therapy related to golf. We're happy to be working with David and Body Balance to further help their clients achieve their potential," said Satayan Mahajan, CEO of iClub. "iClub technology truly represents the future of golf technology in its ability to quickly improve power, distance, and enjoyment of the game. The partnership with Body Balance is a tremendous step in this direction."
"With the Body Motion System the physical restrictions we see during the Body Balance initial evaluation are translated to golf swing problems," commented David Ostrow, CEO of Body Balance for Performance. "This tool gives immediate visual feedback to the client while he is training."
The Body Motion System offers state-of-the-art biomechanics analysis. It quantifies, in degrees, shoulder rotation, hip rotation, and how well the spine angle is maintained throughout the golf swing. iClub sensors send data wirelessly to a personal computer where artificial intelligence converts the information to a 3-D view of the person in motion.
"iClub has created the world's most advanced body motion capture system. This is a wonderful assessment tool that fits perfectly with our golf training programs, and therapeutic treatment programs," said Ostrow, "the BMS is the final piece to our Body Balance for Performance system. With it we have the ability to customize golf fitness training programs for our clients at a level never before imaginable."
iClub's Body Motion System (BMS) is available at Body Balance's Westchester County, New York location and at all of their 48 nationwide centers.
About iClub, Inc.:
iClub enables golfers of every ability to achieve their best performance levels. Innovative technology, coupled with the insights of leading researchers and teaching professionals, has produced a family of products that remarkably changes the golf learning process. The company, created by a core group of MIT-researchers and students, offers the iClub System, including the iClub™ and Body Motion System. The iClub was recently highlighted as "Hot Gadget" in Travel and Leisure Golf's 2005 Hot List and is a co-host of Better Golf Through Technology held at MIT. (http://www.bettergolfthroughtechnology.com)
For more information, visit http://www.iclub.net
About Body Balance for Performance:
The Body Balance for Performance program is based on the idea that a body issue contributes to every swing flaw. It is based on scientific research that measures muscle activity during the golf swing. Averages of their 48 national centers have shown handicap reductions of 4 strokes and increased distance off the tee of 20 yards.
For more information, visit http://www.fitgolf.com
Press Release Authoring service by Xeal Precision Marketing
###