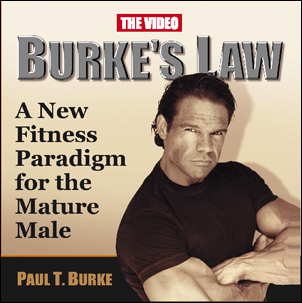 Marlboro, New Jersey (PRWEB) January 15, 2007
Most of you know him by now. He is that 51 year old guy with an amazingly big and muscular body; who authored the groundbreaking book, "Burke's Law," "A New Fitness Paradigm for the Mature Male." He is also the natural muscular body and young face of the Weight Training DVD of the same namesake as his book.
His new Training DVD is being sold to every corner of the globe. In the "Burke's Law" Training DVD, the two cameras that shot the fantastic DVD show Paul training in "Burke's Law" fashion, which has created quite a stir amongst bodybuilders and people wanting to get in shape. It also shows that Paul Burke is here to stay.
Burke is also giving special online training and nutrition programs. "I mostly work with men, says Burke, the "Mature Male" columnist for "Iron Man" Magazine; and, I also help many with Multiple Sclerosis and other diseases that I have a lot of knowledge about."
"I have been giving consultations over the Internet for the past two years; however, now that my book is out and doing so very well and my DVD is selling faster than anyone imagined, I have extra tools for people to utilize when I give them an Online Program," The brawny dark-haired training expert says.
Burke, who likes to make it clear that every man has great physical potential showed us why. "What I have done is made a quantified system, where I give each client a very lengthy questionnaire." "From that questionnaire I find out the client's dimensions, circumferences and measurements that I then take and plug into a program that I devised. From this, I can tell what the most leverage advantageous exercises will be for each person, and each one of their separate body parts," Burke says emphatically. "This is one of the keys to "Burke's Law."
"Let me give you an example," the bodybuilder with 22" biceps begins. "If someone writes in their arm length as being what is considered long for the rest of their body by my calculations, and they have narrow shoulders, (measurements all taken by the clients); they are giving me their measurements of the length between their AC joint to AC joint. This particular person (with the long arms and narrow shoulders) is automatically not going to be given barbell bench presses as a chest exercise. I will give them decline dumbbell presses, to shorten their stroke and range of motion, and perhaps a few sets of cable cross-over and maybe a peck-deck type motion; the latter taking advantage of the long arms. How and why? "Well," Burke begins, "length is an advantage in pulling and it a disadvantage when pressing." "It goes a lot deeper than that, however, because people with long arms are simply not bio-mechanically built to do flat barbell bench presses, so you have to play to their bio-mechanical strengths and find viable alternatives for their weaknesses," Burke says with assuredness. "This is really why most people fail at building muscle; they don't understand that their muscular-skeletal structure is as unique in the world as is their finger-print and they simply cannot take a routine out of a magazine and make it their own."
Burke also has a different questionnaire for people's diet. This questionnaire finds out about metabolic rate; people's thyroid panel; their cholesterol and any allergies that they might have. "I might have to have them take a Lymphocite Allergen Test, and they will have to have blood drawn for their thyroid panel and so on." I want to know how this person is working inside and out."
"This is what I am an expert at," Burke says, "I can both take various measurements and know exactly what each person's greatest leverage advantage will be with every single body-part, and make them up a diet based on what their metabolism shows me through blood work." "You cannot, with a good conscience (and the intellectual ability), just give every man a template workout and diet, it would be like going to the doctor and having them say, "Take two Aspirin and call me in a week," to every single person who came through their door." "The key to muscular hypertrophy is to know what their place of leverage advantageousness for each and every muscle group is." I have also spent many years educating myself (with the help of such scientists as Dr. Barry Sears) about the metabolic state that people may be in." I have spent my entire adult life measuring and working with hundreds, if not thousands of people so that I can understand what works for long torso and what doesn't; what a person with hypothyroidism shows overtly." "This is where I am ahead of everyone and there is no way that, without decades of experience and notation that anyone can just whip this up." "I pride myself at being the very best," Burke says with confidence.
"It has been a life long passion and it is beginning to pay-off," Burke says with great enthusiasm. "Naturally, it is a business, but I want to be known as someone who has actually made a big difference in people's lives and my industry."
To purchase "Burke's Law," The DVD, go to Amazon or paulburkefitness
To purchase "Burke's Law," A New Fitness Paradigm for the Mature Male, go to: http://www.Trafford.com/05-1850 or http://www.amazon.com or Barnes and Noble or ironmanmagazine any online book store (Look for the book to be in all major stores in March 2007)
To purchase a sophisticated online Training Program, Nutrition Program, or Combination with One Year of Support by Paul Burke only, go to: http://www.Paulburkefitness.com and write to him through the site and tell him what you would like and be specific.
Paul answers all e-mails within 48 hours.
###