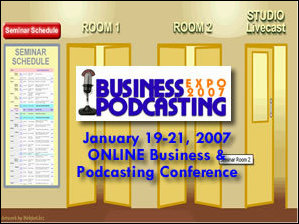 Navigating New Media: What It Is and How It Can Transform Your Business
Canton, GA (PRWEB) January 15, 2007
The Online Business & Podcasting Expo will be held January 19-21, 2007. All that is needed to attend is an internet connection and speakers, and a microphone for verbal interaction. All of the audio/visual seminar classes and networking events are recorded on data DVD for shipment to full admission attendees.
Three seminars will be open to the public, including
"ADD/ADHD - How Entrepreneurs Can Overcome It", by Barry Bettman, Professional Certified Coach specializing in ADD and Autism,
"Navigating New Media: What It Is and How It Can Transform Your Business", by John C. Havens, Podcasting Guide for About.com, and
"Business Podcasting", by Small Biz Pod's Alex Bellinger.
Samples of other business seminars include Beginning and Advanced Quickbooks Training, Outlook Training, Getting the Most Out of Your Tax Deductions, WordPress Installation and Usage, Networking, and How to Build a PR Platform.
Podcasting seminars will include Introduction to Podcasting, Introduction to WavePad and Mixpad, Introduction to Audacity, Why Video Podcast, Beginning Video Podcasting, and Podcasting to Increase Your Search Engine Ranking.
Every full admission attendee will receive a Website Consultation from the Perspective of the Media from Annie Jennings, Recording/Editing/Mixing Software, Podcatching Software, a multi-media Podcasting Handbook, and a Data DVD of all recorded sessions. Other giveaways include Sharepoint Video Tutorial Bundles from Andrea Kalli, Lifetime Licenses of Pamela Pro for Skype from Dick Schiferli, Books, MP3 Players, Audio Books, a Branded Podcatcher, and more.
The Expo is sponsored by PodcastDirectories4Sale.com, the only Podcast Directory Software created by Podcasters. Several niche market Podcast Directories opening this month include the Business Resources Podcast Directory, Women's Health and Fitness Podcast Directory, Musicians Podcast Directory, Technology Podcast Directory, and Small Business Podcast Directory. The Family Friendly Podcast Directory has moved to a new site to utilize this new Directory Software. All Podcasters are invited to submit their podcasts to the appropriate niche Directory.
For more information about the Online Business & Podcasting Conference, go to http://www.BizPodExpo.com, or contact Expo Organizer, Penny Haynes.
###