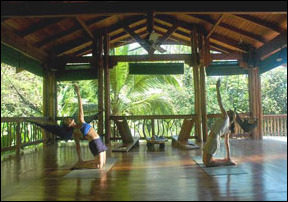 Alastair Sawdays' Green Places to Stay
Golfo Dulce Osa Peninsula, Costa Rica (PRWEB) January 17, 2007
Wellness lodges and adventure eco lodges in Costa Rica are commonly considered worlds apart. Nevertheless starting this month, Playa Nicuesa Rainforest Lodge, situated in one of the most biologically diverse regions of the world - Golfo Dulce/Osa Peninsula region of Costa Rica, will be integrating both seemingly opposite approaches into one unique vacation experience. Guests accustomed to the eco lodge's assorted offering of both sea & rainforest multisport activities will now be able to also enjoy yoga classes & massage therapies imparted by an ongoing schedule of visiting world-class instructors.
Co-owner Donna Butler explains: "its a wellness program for the adventurous. We want our guests to holistically energize themselves through yoga when they wake up to be ready for an active day of hiking and kayaking. Then, be able to wind down with soothing massage therapies when the sun sets, and enjoy wonderful healthy tropical cuisine made with organically grown local goods. The multisport adventure vacation experiences our guests will discover throughout their stay at Nicuesa will take care of awakening their spirit."
The 165-acre private natural preserve which nestles the eco lodge and its exotic wildlife, along with the remote beaches of Golfo Dulce and the lush rainforest of the Piedras Blancas National Park, offer up the perfect balance for the internal calm that the Wellness Resident Instructor program seeks to provide. In the words of Richard Hammond, Editor of the recently published "Alastair Sawdays' Green Places to Stay": "The front garden is a powder blue ocean, the back yard is a tropical green rainforest. Access is by boat only. But who wants to go anywhere? This combination of adventure camp and chill-out retreat rubbing along happily with nature is totally seductive".
The new Wellness Resident Instructor program is comprised of certified and highly experienced massage and yoga instructors from North America. It starts January 16th with the participation of Yoga Alliance member Eva Lev; followed by US/Ireland based Catherine Paulson who teaches the many facets of asana and pranayama (postures and breathwork). A constantly updated schedule, as well as information on rates and special packages currently offered, can be found on the Nicuesa eco lodge website.
A 5 night Multisport Adventure Vacation package starts at $1025 in the Mango Guesthouse, and $1125 in a Private Cabin. It includes daily nature and adventure tours, meals and use of sports equipment. For a limited time Nicuesa is including two free yoga classes with this 5, 6 or 7 night package.
Playa Nicuesa Rainforest Lodge is an environmentally sensitive eco lodge set on a 165-acre private preserve in the undeveloped Pacific Coast of Southern Costa Rica. The lodge embraces conservation and harmony with the natural environment and caters to travelers interested in ecotourism, nature, adventure and sports. It is located within the Piedras Blancas National Park, and fronts the coastline of the Golfo Dulce. For information and reservations contact toll-free: 1-866-504-8116 or visit their website.
###