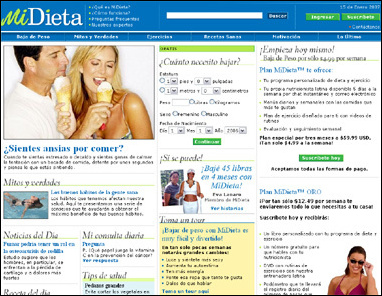 20 most innovative health promotion and disease prevention applications
Atlanta, GA (PRWEB) January 16, 2007
The research study, which started in 2004, includes formative research to understand the attitudes and practices of Hispanics towards obesity and dieting as well as a randomized trial to test the efficacy of DrTango's bilingual, culturally-optimized MiDieta program to achieve weight loss and lifestyle changes in Hispanics.
Now, after a successful first phase of the study, the Robert Wood Johnson Foundation has granted an expansion of the trial. With funding and support from additional managed care plans, the expansion will allow DrTango researchers to gain significantly greater insight into the most effective strategies for achieving sustainable weight-loss through improved diet and fitness among Hispanics.
The purpose of the study is to test the efficacy of the MiDieta eHealth portal for weight loss among overweight U.S. Hispanics, most of whom are members of the collaborating managed care organizations", said Jessica Malmad, Study Director.
According to Dr. Dirk G. Schroeder, Principal Investigator, "obesity is a major and growing problem among U.S. Hispanics with serious implications for the development of diabetes and other chronic diseases. Current trends among youth suggest that disparities in obesity between minorities and non-Hispanic whites will amplify. Reducing such health disparities is a priority for federal, state and local governmental bodies and communities.
U.S. healthcare providers, however, have few culturally-appropriate tools and inadequate numbers of bilingual, trained healthcare professionals to address these challenges" concluded Schroeder.
A culturally-appropriate weight-management portal, supported by bilingual Latina dietitians, available for remote email and telephone counseling, offers an attractive mechanism for efficiently serving the underserved.
MiDieta is the leading online diet, fitness and weight management portal for U.S. Hispanics/Latinos. MiDieta is bilingual (Spanish/English), based on Latino foods & habits and already available through dozens of media, hospital, and health plan websites.
Thousands of Hispanics access MiDieta each week. In 2004, the U.S. Department of Health and Human Services selected MiDieta as one of the "20 most innovative health promotion and disease prevention applications" in the United States.
For more information visit http://www.midieta.com
###