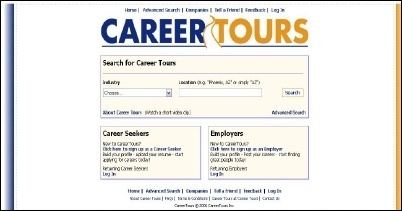 Our website is the first to unite careers, experiences, and the phenomenon of social networking. We make it easy for anyone interested in a new career to become acquainted with potential employers through experiences and to share those experiences with others
Phoenix, Arizona (PRWEB) January 16, 2007
CareerTours, a national recruitment resource, has launched a redesigned and enhanced website for clients and career seekers. With a new appearance and multimedia format, the website is both easy to use and filled with innovative content including radio and TV, "word of mouth" social networking, and more. CareerTours will also provide career seekers with experiences of potential employers. The new website can be viewed at http://www.careertours.com.
The CareerTours website has undergone significant enhancements in the areas of content, navigation, and design. Content additions include proactive and active career postings, employer radio and TV, an interactive calendar of events, and extensive city guides.
Proactive postings inform career seekers about upcoming positions that a company plans to post, but are not yet available, and are used to create waiting lists for recruiters. Active postings, used to recruit for open positions, have an "Application Deadline" much like eBay. The application deadline creates a sense of urgency and sets career seekers' expectations for when the postings will be closed, encouraging applications in a desired time frame for recruiters. The website will also have radio and TV included in its recruiting tool. Both will be uploaded directly to the site to allow companies to tell their stories.
One of the most unique features of the new website is the "Word of Mouth" marketing tool. Word of mouth, also known as buzz marketing, creates platforms for people to amplify information to others within their social networks. The CareerTours marketing tool will allow employers to share information with applicants (current and previous), and employees to share their employment messages within social network s. This is an innovative way for employers to reach passive career seekers and expand applicant pools.
"Our website is the first to unite careers, experiences, and the phenomenon of social networking. We make it easy for anyone interested in a new career to become acquainted with potential employers through experiences and to share those experiences with others," said President & CEO Aaron Bare.
About CareerTours
CareerTours (http://www.careertours.com) is a "frictionless" organization that connects top talent to the best organizations. The mission of CareerTours is to be the #1 supplier of new talent to its clients and to be the best resource available for career seekers.
Media Contact:
Jennifer Brooks, 602.561.0204 or jennbrooks at careertours.com.
This press release was distributed through eMediawire by Human Resources Marketer (HR Marketer: http://www.HRmarketer.com) on behalf of the company listed above.
###