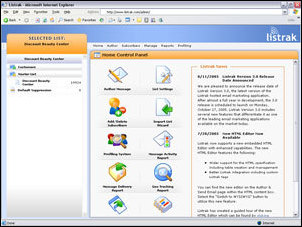 Marketer & Agency Guide to Email Deliverability
Lititz, PA (PRWEB) January 17, 2007
With a plethora of spam and virus threats prowling networks and servers, it's not surprising to see a large percentage of legitimate mass email marketing stuck in junk mail folders or filtered out altogether. It's estimated that up to 80 percent of all email is spam. When permission-based or opt-in email marketing is erroneously filtered, marketers are left with unimpressive campaign results. This can account for lost profits and tarnished business reputations. Email deliverability is the act of increasing each email's chance of moving through these filters and blocks into recipients' inbox.
The Interactive Advertising Bureau's October 2006 white paper titled "Marketer & Agency Guide to Email Deliverability" outlines techniques to avoid spam traps. Most of these strategies are standard best practice in mass email marketing, like ensuring your opt-out link works properly before sending a campaign and using a double opt-in system for list subscription. The IAB also recommends more complex tasks, like removing addresses that haven't clicked on your email communications in the past 90 days, configuring servers with a reverse DNS record and removing undeliverable addresses. Did you know that receiving a lot of 'unknown user' errors can prompt your ISP to block all email sent from your domain?
"Listrak offers clients several deliverability tools to automate all major filtering and blocking obstacles," states Ross Kramer, CEO of Listrak. "Our email marketing solution has some of the most advanced features on the market, automating email list management, maintenance and hygiene to ensuring businesses gain the strongest ROI. So our clients don't have to worry about manual list hygiene."
Listrak's targeted email direct marketing solution helps companies avoid spam filters automatically. To learn more about the Listrak bulk email service, read email direct marketing articles, white papers and customer newsletter archives, visit http://www.listrak.com.
About Listrak
Listrak is a leading provider of hosted email marketing software that allows permission-based marketers to manage, send, track and grow their email marketing investment. Listrak services clients such as Daimler Chrysler, Motorola, L'Oreal and the Islands of the Bahamas from its Lititz, PA headquarters. Listrak was named the 2006 Small Business Technological Excellence Award winner by the Philadelphia Chamber of Commerce, a Top Fifty Fastest Growing Company in 2006 and 2005 by the Central Penn Business Journal and the 2005 Growth Company of the Year by the Technology Council of Central PA.
###