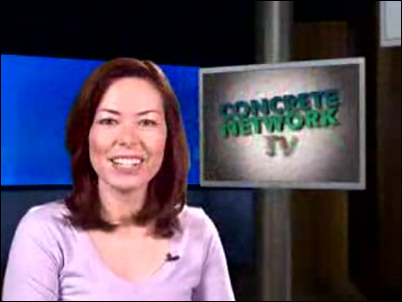 Yucaipa, CA (PRWEB) January 19, 2007
The Concrete Network is proud to introduce Concrete Network TV. A weekly show highlighting innovations in products, people (industry leaders), upcoming seminars and training events, new products, product demos, special purchase opportunities, and interesting projects submitted by contractors, plus much more.
The Concrete Network's first online webcast delivers coverage of the most interesting news in decorative concrete. Each week, anchor Maureen Barley, provides short, crisp, upbeat commentary on what is happening in the world of decorative concrete. The news show is great for contractors, builders, designers and homeowners interested in staying on top of new trends in the concrete industry.
Due to the vast audience of the Concrete Network (8.6 million visitors in 2006; 12 million estimated for 2007), an incredible amount of information on interesting projects and new products from the contractor and manufacturer community is collected. This will be facilitated even more now with video, because the contractors and manufacturers who have submitted material to The Concrete Network for quite some time in print, will now be able to send information in video form, which can then be incorporated into Concrete Network TV.
The story of decorative concrete is evolving quickly, and video will be an important part of telling that story! Contractors and manufacturers are encouraged to participate by sending in videos and stories of their projects and products to The Concrete Network.
Established in 1999, The Concrete Network's purpose is to educate consumers, builders, and contractors on popular decorative techniques and applications including stamped concrete, stained concrete floors, concrete countertops, polished concrete, and much more. Over 800,000 visitors research The Concrete Network Web site per month.
The site excels at connecting buyers with local contractors in their area through its Find-A-Contractor service. The service provides visitors with a list of decorative concrete contractors throughout the U.S. and Canada, and is fully searchable by 22 types of decorative concrete work and 199 metropolitan areas throughout North America.
###