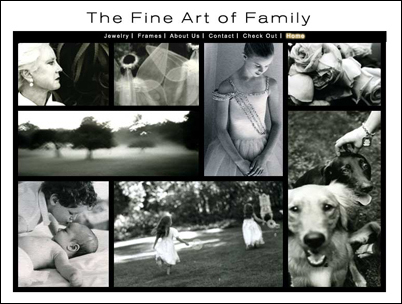 As a professional photographer specializing in family portraiture, I know there is no gift more precious than a beautiful photo, beautifully presented
New Canaan, CT (PRWEB) January 17, 2007 -The time-
honored tradition of passing down family heirlooms and lockets is a tradition that Monica Rich Kosann is putting in vogue again. Recently, a large selection of her collection was unveiled at TheFineArtOfFamily.com where lovers of keepsake jewelry can purchase the very same fine gold and sterling silver jewelry and lockets spotted on Hollywood's high-profile stars.
Kosann's creations are available at upscale stores such as Bergdorf Goodman, Neiman Marcus, Barney's New York, and about 80 specialty jewelers throughout the United States. With the opening of TheFineArtofFamily.com, on-line shoppers can now purchase Monica Rich Kosann's locket and image case necklaces and bracelets for their family photos.
Kosann's keepsake jewelry designs stem from her highly-regarded fine art photography career. Known for her expressive black and white family portraits, Kosann created vintage-looking 18-carat gold and sterling silver pieces that she could offer her clients as a way to showcase those works. Already a museum- and gallery-exhibited photographer, her natural extension into the realm of jewelry design for a family's precious photos has been a very successful venture.
"As a professional photographer specializing in family portraiture, I know there is no gift more precious than a beautiful photo, beautifully presented," Kosann said. "We are creating the keepsakes and heirlooms for a new generation."
Kosann's jewelry has been featured in nationally circulated magazines such as InStyle and Town & Country and entertainment media such as People Magazine have shown her designs adorning Hollywood's elite. In recent press, Katie Holmes has been photographed sporting gold and silver lockets from Kosann's collection.
TheFineArtofFamily.com provides buyers with a secure means of buying fine jewelry online. It also offers the most comprehensive selection of Kosann's fine jewelry available in an online environment.
Kosann thinks of her fine jewelry pieces as an ideal way to pass down memories - captured in a timeless, valuable heirloom - from generation to generation.
"The Monica Rich Kosann collection is fine jewelry. As its focus is on lockets and image case jewelry, there are many styles, from traditional to more casual, providing the purchaser with many different ways to carry a cherished photo," Kosann said.
About The Fine Art of Family:
The Fine Art of Family features Monica Rich Kosann fine jewelry online that buyers can cherish for generations to come. Kosann, a photographer who specializes in black and white family portraits, created her line of sterling silver and 18-carat gold image case jewelry and lockets as a natural extension of her passion for creative photography.
###