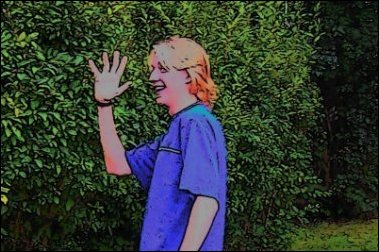 total bitch with a heart of gold.
Scranton, PA (PRWEB) January 18, 2007
Why did comic books stop being funny, and who says they have to stay that way? Dufusdetective.com, launched on January 7, 2007 is a free comic book that is trying to reverse that trend. While most comic books feature action heroes with super powers, the Dufus Detective manages to barely solve his cases in spite of his intellectual limitations.
Each episode is 15 to 18 pages in length and will be published in the first and third week of the month, starting with the next issue on 2/6/07. The author, R.J. McDonnell, wrote the recently published detective fiction ebook novel "Rock & Roll Homicide," was a columnist for San Diego and national publications, and had 35 comedy scripts produced on television.
Unlike traditional comic books, The Dufus Detective utilizes live models and digital photography. A combination of software packages is used to create the cartoon effect.
Lance Dilfro is the Dufus Detective. Orphaned as a preteen, Lance was raised by his attractive sister, Yvette, who is best characterized as a "total bitch with a heart of gold." After a mighty struggle, Lance earned his high school diploma at the age of 20, then went through a series of short-term jobs. Yvette used her allure to talk her husband, Jake, into bringing Lance on as an intern at his prospering private detective agency. By the time Lance completed his internship, Jake's reputation was nearly ruined. No one in the family will discuss how Lance passed his PI licensing exam.
In most cases Lance manages to get the job done with a lot of help from family, neighbors and clients. Yvette, played by Lance's real-life sister, coaches him on how to combine his good looks and charm with the notion of "silence is golden," when trying to land clients. Her persistence and dedication helps Lance make a living at his newfound profession.
The site is sponsored by an organization that provides free information about colleges around the US. As such, it is written to the 16 to 29 year-old demographic.
Jake's character is played by Ed Banja, who is the drummer for the hardcore band, "Strength for a Reason," which recently completed a European tour in support of their new CD, "Blood, Faith, Loyalty." Yvette also enjoys celebrity status as an exciting, up-and-coming DJ (Kristen Brooks) in Northeastern Pennsylvania.
Contact:
R.J. McDonnell
570-558-9670
##