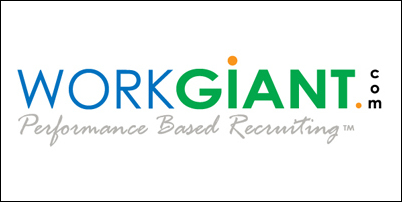 Ft. Myers, FL (PRWEB) January 17, 2007
WorkGiant, a national performance based recruiting company, today defines the challenges faced by professional recruiters and introduces an affiliate recruiting program allowing professional recruiters to monetize the recruiting industry with its patent-pending performance based recruiting model.
WorkGiant has identified two key problems that professional recruiters must overcome to remain successful in the industry:
Online Job Sites Threatening to Displace Professional Recruiters
Since 1994, Internet job sites have sought to disintermediate traditional professional recruiters. Because of this phenomenon, professional recruiters have been compelled to undertake increasingly difficult searches in an increasingly competitive environment in order to survive and justify their high success fees.
WorkGiant Solution: WorkGiant seeks to partner with professional recruiters nationwide to expand their employer relationships and differentiate themselves from the competition.
Professional Recruiting Revenues Are Unpredictable and Vulnerable to Economic Downturns Professional recruiters compete intensively to fill a position and then must generate the next opportunity and employer/employee match in order to be compensated. As a result, revenues are very unpredictable. In addition, employers tend to pull back on high-end recruiter-led hiring during economic downturns or temporary economic shocks (e.g. 9/11).
WorkGiant Solution: By partnering with WorkGiant, recruiters are empowered to take back their industry, using WorkGiant as a hedge against economic downturns and shocks to the economy. Now recruiters can get paid on routine hires made by their employer clients, where in the past this has been monetized by the big job boards, or the newspaper classifieds.
WorkGiant is clearly on a crusade to revolutionize online recruiting industry with their affiliate recruiting program. This launch will allow recruiters to earn residual income on already established relationships.
For additional information on this innovative program visit:
http://www.workgiant.com/pressreleases/recruiter
Contact: Scott Turner
Company: WorkGiant
Phone: 239-210-9675
About WorkGiant.com
WorkGiant is a national and broadly focused job board with a pay per hire platform that allows employers to post open positions and search the resume database at no cost. WorkGiant only receives payment after the successful hire of a candidate. In addition, job seekers can add their resume with no cost while referring others and earning commission bonuses. Our primary focus is the successful connection of job seeker to employer with a comprehensive user interface, outstanding customer service and our patent-pending Performance Based Recruiting structure.
###