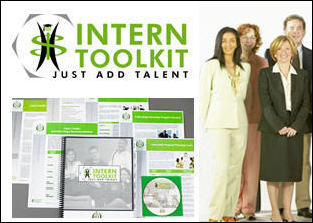 A common misconception is that organizations and individuals don't have the time to run an internship program
Newtown, PA (PRWEB) January 17, 2007
Z University.org (ZU), an innovative workforce readiness company dedicated to internship excellence, has announced the top 10 reasons employers should launch student internship programs or enhance existing programs this spring. These insightful tips come from the Intern Toolkit™, the most complete resource to convert student talent and skills into employer profit.
Available for purchase at http://www.InternToolkit.com, Intern Toolkit makes it easy for employers and non-profit organizations to run an internship program in a way that increases productivity and raises the quality of the internship experience for students.
The following 10 benefits were cited for employers with strong internship programs:
1) Increase Productivity: Interns bring needed resources to achieve what couldn't otherwise be done. This ranges from promoting the organization and gathering market intelligence to improving operational effectiveness and supporting clients.
2) Enable Employees: Interns help complete tasks that normally consume the time of full-time staff. This frees up employees to focus on more valuable work.
3) Build Managerial Experience: While a well-qualified program manager is critical to internship success, organizations can still allow less-seasoned employees to gain some initial supervising experience.
4) Inject Enthusiasm: Student interns add vibrancy to the fabric of any organization. They can provide fresh ideas and positive energy that, if well-harnessed, can become contagious.
5) Broaden Capabilities: Interns often possess skills that existing staff lack. They often have higher-level computer proficiencies, in addition to knowledge about the latest methodologies, technologies and resources.
6) Improve Recruiting: Having the opportunity to hire interns upon graduation provides significant savings in recruiting costs, effort and mistakes.
7) Secure Future Employees: An internship program enables businesses to pre-recruit, pre-qualify, and pre-train potential employees.
8) Talent Advantage: A well-managed intern recruitment program can yield a significant competitive advantage by securing some of the best young talent before they hit the "open market."
9) Give Back to Communities: Intern programs can improve your reputation with schools, as well as local and business communities.
10) Pre-Networking: Forging collegial relationships early on, especially through structured mentoring, can lead to even greater rewards to be shared with future colleagues.
"A common misconception is that organizations and individuals don't have the time to run an internship program," says Matthew Zinman, president of Z University.org. "What employers and managers need to realize is that they don't have the time not to have interns. Students are highly capable of contributing all kinds of business value . . . when well-managed, the amount of time they contribute yields far more productivity and many other unique benefits."
The Intern Toolkit is designed to help employers to create, manage and improve internship programs and all forms of experiential learning, and helps students gain vital career experience that prepares them for the workforce. Contents are organized in a tabbed spiral binder, and accessible for electronic download, so users can adapt and make its many tools their own.
About Z University
Z University.org (ZU) is making internship programs a powerful remedy to close the gap between classroom learning and workplace competency. In addition to its many initiatives to educate, collaborate and advocate, ZU's primary focus is to innovate solutions that, in effect, remove the barriers for students to gain valuable experience and for employers to gain valuable productivity and better future employees.
Z University developed Intern Toolkit (available online at http://www.InternToolkit.com) to make it more feasible for employers to create, manage and improve internship programs and all forms of experiential learning. It's by far the most complete resource to convert student talent and skills into profit for employers and provide vital practical experience and career training for students to succeed as they enter the workforce. ZU is developing more innovative products and resources to fulfill its mission.
Z University.org also established The Internship Institute as a non-profit to champion positive change in every way possible. The Institute's leadership advocacy supports initiatives to promote need to make internships mandatory, to treat and compensate interns fairly, and to encourage employers to assume their inherent social responsibility and motivation to put students to work.
The Internship Institute also aims to pursue opportunities that advance experiential education, create scholarship programs for non-paid interns, formalize its intern mentoring curriculum, perform meaningful market research, provide subsidies to other non-profit organizations, and inspire action among employers, students, and academic professionals to improve workforce readiness.
Media Contact
Matthew Zinman, President and Founder
email: NewsInquiry(at)ZUniversity.org, or call 1-877-ZU2GROW (1-877-982-4769)
This press release was distributed through eMediawire by Human Resources Marketer (HR Marketer: http://www.HRmarketer.com) on behalf of the company listed above.
###