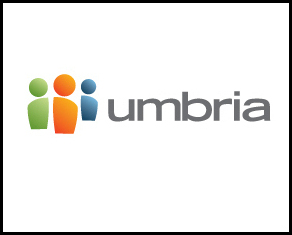 Harnessing Web Analytics to Your Advantage.
Boulder, CO (PRWEB) January 17, 2007
Umbria Inc., a market intelligence company that specializes in blog research and consumer generated media (CGM) for market insight, today announced that it has been chosen by AlwaysOn Media as one of the AO Media 100 Top Private Companies. AO Media 100 is a power list of the top private digital media companies. Umbria was handpicked by the AO Media editorial team based on a set of five criteria - innovation, market potential, customer adoption, media buzz and investor value creation.
Umbria and the AO Media 100 will be honored at the AO Media executive summit January 29-31, 2007 at The Mandarin Oriental Hotel in New York City. The summit will focus on the forces that are disrupting user behavior and creating new opportunities in marketing, branding, advertising, and public relations. The event will also showcase top innovative private companies that are changing the way media is created, distributed and consumed.
Umbria President Howard Kaushansky will be presenting as part of a workshop entitled, "Harnessing Web Analytics to Your Advantage." It will be held January 31 8:30 - 9:30 a.m.
"The AO Media 100 are creating new revenue opportunities in the more than $16.4 billion online advertising market by disrupting traditional media and advertising models," said Tony Perkins, founder and editor in chief of AlwaysOn. "They are innovating by applying game-changing technology to key sectors including user-generated content, technology-enablers, mobile marketing, community platforms, Web analytics, and online advertising services."
The AO Media 100 was selected from over 1,000 companies, peer-nominated by leading venture capitalists, investment bankers and industry analysts.
Umbria is unique in its ability to assess the demographics of the individuals speaking through blogs, forums, message boards, chat rooms, product reviews and more. That ability to segment the blogosphere enables marketers to identify market opportunities in specific consumer segments, note how marketing efforts track against different demographic groups, and highlight trends that may be growing in certain consumer groups.
A full list of all the AO Media 100 companies can be found on the AlwaysOn Web site at http://www.alwayson.goingon.com/
"We're very pleased to see that Umbria's goal of transforming the landscape of social media and social networking is resonating with the masses and organizations such as AlwaysOn Media," said Kaushansky. "Umbria is honored by this recognition, and is excited to be a part of continuous progress in the 'open media' revolution."
About AO Media 2007: January 29-31 @ The Mandarin Oriental Hotel, NYC
AlwaysOn Media is where cutting-edge technology CEOs from the back streets of Silicon Valley meet the global advertising and media establishment. This two-and-a-half-day executive event features CEO presentations and high-level debates on which forces are disrupting user behavior and creating new opportunities in the marketing, branding, advertising, and public relations industries. At AlwaysOn Media, our editors will also honor the AO Media 100 Top Private Companies. Fifty of the top CEOs from the AO Media 100 will pitch their market strategies to a panel of industry experts in our "CEO Showcase."
About Umbria Inc.
Umbria Inc. is unique in its ability to assess both what is being said, and who is doing the speaking in the online world. Umbria's patent-pending technology enables the company to classify posts and estimate gender and age of the speaker, as well as rapidly identify and eliminate bogus spam posts. Umbria analyzes voices of the online community by using proprietary Natural Language Processing and machine learning algorithms to dissect the who, what and why of online opinion, offering in-depth insights for some of the world's leading brands, including Verizon, IBM, Real Networks, France Telecom and many others. For more information on Umbria, please visit http://www.umbrialistens.com.
About AlwaysOn
AlwaysOn ignited the open-media revolution in early 2003 by being the first media brand to launch a global blog network. In 2004, AlwaysOn continued to lead the media industry in innovation by introducing a social network where members can connect and engage. AlwaysOn is also revolutionizing the media business by applying its open-media principles to its executive event series (Stanford Summit, AlwaysOn Hollywood, AlwaysOn Media and Goinggreen) and quarterly print "blogozine" by empowering its members to post and share their ideas and meet each other online. As our loyal readers know, AlwaysOn is committed to the free-market, merit-driven approach to reporting and event programming. No other media brand has dared to create such open interaction with its readers and event participants.
###