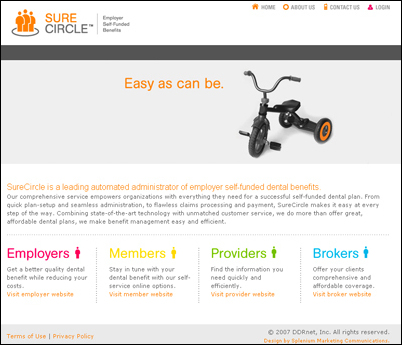 Our online service provides a comprehensive solution that addresses all of those corporate concerns.
San Mateo, CA (PRWEB) January 18, 2007
Heads are turning in the dental community, as SureCircle Dental Self-Fund Online Manager (v.3.1) generates a renewed interest for employer self-funded dental plan options. SureCircle, a third-party administrator of employer self-funded dental plans, today announced the innovative technology which fully automates and improves the self-funding workflow for employers, employees and dentists.
Introduced in 1982, Direct Reimbursement (DR) plans have been touted as a simple and flexible benefits option. A DR plan is an affordable alternative to costly insurance premiums. It can be designed to cover as much, or as little as the employer wants - saving organizations on insurance premiums while increasing the level of benefits they offer.
For organizations that require online enrollment, real-time control, instant reporting, and online funding and payment, SureCircle's new service offers some long-overdue relief.
In the past, administering a Direct Reimbursement plan was considered a virtual nightmare, requiring HR departments to invest far too many administrative hours. Even companies that hired TPAs to handle their funds often failed to experience the level of ease offered by conventional insurance plans.
The online service provides a way for dentists to submit electronic claims without any involvement from employers or employees. There is even an electronic funds transfer feature for automated payment, which eliminates manual check issuing by employers, while maintaining fund control.
For many organizations, offering basic dental coverage is not enough. Dental benefits play a vital role in achieving recruitment and retention goals. Now, DR plans have the potential to be the dental vehicle of choice for many organizations.
"A balance must be achieved between the financial cost, adequate dental coverage and administrative ease," explains Joseph Shatara, COO for SureCircle. "Our online service provides a comprehensive solution that addresses all of those corporate concerns."
"With our information portal, organizations and members have 24-7 online access to real-time data and reports," he adds, "which provides members with an enhanced benefit experience and employers with a valued plan that doesn't compromise on convenience."
Whether organizations want to provide the highest quality coverage, reduce member out-of-pocket expenses, or lower their overall costs, SureCircle can help organizations meet their objective with a customized dental plan.
To learn more about the advantages of self-funding with SureCircle, and to get an instant online cost estimate, visit http://www.surecircle.com.
About SureCircle
SureCircle is a leading automated administrator of employer self-funded dental benefits. Offering a comprehensive solution, SureCircle is dedicated to providing the best value dental plans through superior benefit quality, simple, intuitive plan management, and lower benefit costs. Our commitment is to empower organizations with the ability to increase the overall value of their dental benefit, rather than simply shift costs back to their employees. We accomplish this through advanced technology that makes dental self-funding an easy and convenient choice. SureCircle is a DBA of DDRnet, Inc.
This press release was distributed through eMediawire by Human Resources Marketer (HR Marketer: http://www.HRmarketer.com) on behalf of the company listed above.
###