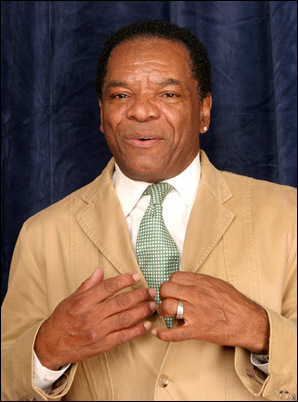 If I could paint, I would want to paint like Bernie Casey, with substance, style and savoir-faire.
Hollywood, CA (PRWEB) January 18, 2007
Art is re-emerging as the new "bling" of Hollywood's elite. Actor-comedian John Witherspoon and his wife Angela Robinson are celebrating a successful year as art gallery owners. In true Hollywood style, the couple along with friends Sharon Stone and Bill Russell are celebrating the first year anniversary of Artpeace Gallery located at 2317 W. Magnolia Boulevard in Burbank, CA on Saturday, January 20, 2007 6 PM with a star-studded invite list and red carpet.
This event is featuring new artworks by actor Bernie Casey and sculptures by Nathaniel Bustion. Respected journalist, Tavis Smiley (known for his: exclusive interview with the President of the United States, during one of the most controversial scandals to ever hit the White House, interviewing Fidel Castro in the wake of unprecedented U.S. sanctions relief, and notably his conversation with Pope John Paul II) has said, "If I could paint, I would want to paint like Bernie Casey, with substance, style and savoir-faire."
Planet Hope, one of the night's beneficiaries, is a charitable organization founded by Sharon Stone and her sister Kelly Stone in 1993. The Los Angeles Women's Theater Festival is the other recipient. This event will be taped for broadcast and promises to be interesting with the convergence of art seekers, art aficionados, celebrities, Hollywood, and celebrated sports figures.
Photo and interview opportunities
Artpeace, a unique art gallery of youth, inspiration and camaraderie opened their doors on Saturday January 21, 2006, at 2317 West Magnolia Blvd. Burbank, CA 91506. Featured works include such artists as Betye Saar, Talita Long, mother of actress Nia Long, William Attaway ceramist and painter (Venice Boardwalk in 1998), Kadir Nelson, a painter whose work is held in high esteem by Steven Spielberg, Eddie Murphy, Don Cheadle and Will and Jada Smith to name just a few. Angela Robinson's client base consists of Eddie Murphy, and sports personality, Chris Webber, Shaquille O'Neal, Alonzo Mourning, Sharon Stone and many others.
The aja Group, LLC. Responsible for developing, managing and reinventing the images of talent in entertainment -- The aja Group's team offer the experience and know how on projects stemming from film and television production to publicity for celebrities and media driven events. We have parlayed our access and experience to drive results on behalf of Entertainment Properties, Corporate Brands and Events.
###