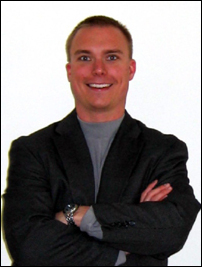 Chris' expertise ensures that each project is a complete success. He is a valuable asset for both blink and our clients
Fort Myers, FL (PRWEB) January 19, 2007
Fresh from one of the largest branding communications groups in the world, Starcom MediaVest Group, Christopher Bernard brings his marketing and branding expertise to blink Marketing and Advertising.
blink, a full-service agency with offices in Chicago and Los Angeles, and headquartered in Fort Myers, FL specializes in producing engaging media for its clients. They offer an array of services including interactive websites, character development and animation, high-design graphics and print, radio and television commercials, and full-scale public relations and marketing campaigns.
"I sought out blink, because they are one of the nation's top creative companies," says Bernard, "Corporations and large companies are being under-serviced by the traditional big agencies that follow a set formula, but rarely provide enticing copy and graphics. I wanted to find an agency that produces outstanding media, whether it's websites, television or print, and marry the high creativity with the proven marketing formula for success."
Over the years, Chris has handled online and offline marketing campaigns for some of the best known brands in the world including: HSN (various brands), GM, Caterpillar, ditech.com, GM Goodwrench, Whirlpool, KitchenAid, Sears Roebuck, DeVry University & Keller Graduate School, Budget Rent-A-Car, US Cellular, Motorola, Cintas, National City Bank, Ryder Truck Rental, Edward Jones, Sherwin Williams, Michelin, and Midas.
Chris has in-depth knowledge of the entire marketing cycle, from analyzing demographic data and planning a campaign through tracking the results. "Chris' expertise ensures that each project is a complete success. He is a valuable asset for both blink and our clients," says Daniel Ruke, President and founder of blink. "Because we guarantee everything we do, I hired him because I wanted our marketing efforts to be as strong as our creative. Chris is the best at what he does, so he's the perfect fit."
For more information about blink Marketing and Advertising, call 1-866-481-0999 or visit [http://www.blinkstyle.com/pr1
###