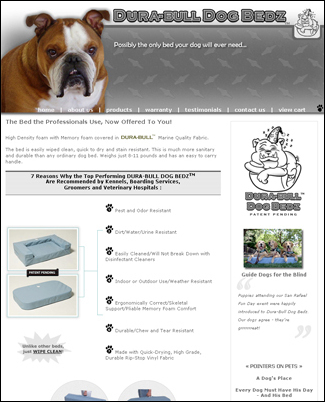 Dura-Bull Dog Bedz are simply unlike any other products available
Scottsdale, AZ (PRWEB) January 19, 2007
The thousands of proud pet owners who purchased their ergonomic pet beds from Dura-Bull Dog Bedz will soon get to see their products in action on nationwide TV, as the revolutionary pet bed supplier announces their durable dog beds will be featured in an infomercial airing on the Animal Planet and Versus cable networks.
The infomercial will showcase the superior quality of the Dura-Bull Dog Bedz products and their benefits to both pets and their owners. The pet bed supplier has experienced unusual success in the marketplace by becoming the first to supply high-end pet beds to mainstream consumers. Until Dura-Bull Dog Bedz became widely available, such orthopedic dog beds were generally only marketed to American Kennel Club members and other groups of purebred and show dog owners.
Prior to the company's inception, Dura-Bull Dog Bedz owner Richard Collins was becoming fed up with the sub-standard materials and construction that went into the beds that were being marketed to the general public. He intended to construct durable dog beds that would last for a lifetime, while allowing simple maintenance and providing more comfort to animals.
"Dura-Bull Dog Bedz are simply unlike any other products available," Collins explains. "These beds are built to last, and they can just be quickly wiped clean."
Dura-Bull Dog Bedz feature memory foam construction that provides the maximum level of comfort to the animals that use them. They are resistant to pests, odors, dirt, water and urine and are covered with marine quality, rip-stop vinyl to make them completely waterproof. Dura-Bull Dog Bedz serves an audience that includes everyday pet owners, breeders, boarding services, kennels and veterinary hospitals.
Collins and Dura-Bull Dog Bedz aren't keeping their success all to themselves; in September 2006, the company announced a corporate partnership with Guide Dogs for the Blind, a non-profit organization dedicated to providing the visually impaired community with well trained guide dogs at no charge. The overall cost of training both the dogs and their handlers can be prohibitive for many who need guide dogs to allow more mobility and independence. Operating entirely on private donations, Guide Dogs for the Blind has been able to provide more than 10,000 guide dogs to eligible handlers since the non-profit began in 1942. Through their strategic partnership, Dura-Bull Dog Bedz supports the organization by donating a portion of each sale to their fund.
To purchase the most comfortable and durable dog beds or to learn more about the most heralded pet bed supplier, Dura-Bull Dog Bedz, please visit Dura-BullDogBedz.com.
About Dura-Bull Dog Bedz:
Dura-Bull Dog Bedz specializes in top-quality beds for any size pet. Their products are extraordinarily durable, chew-resistant, weatherproof, and resistant to water, pests and odors. They are constructed from high-density memory foam to provide the best ergonomic and skeletal support.
###