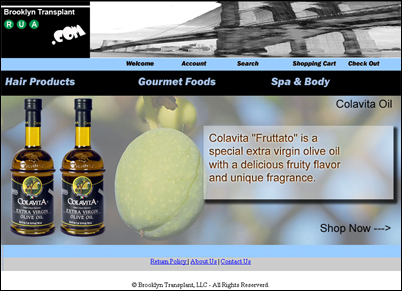 Our products are not unique brands in New York, but are the most cherished by Brooklyn Transplants
Brooklyn, NY (PRWEB) January 19, 2007
When moving from one area to another, naturally, residents search for retailers to replace the products and services they are accustomed to. It's not always so easy to find a specialty shop offering the same item from one geographic area to another. Imagine the disappointment of eating a Belgium waffle prepared in Columbus, Ohio compared to one baked on the streets of Brussels. Relocating to another city or state poses a problem for consumers who want to continue purchasing specialty items from existing vendors.
Brooklyn, one of the five boroughs surrounding New York City, is a culturally-driven region exuding heritage at every corner shop. Shops specialize in niche products, from Italian style cookies and premium extra virgin olive oil to curly hair care products and the best deep conditioner for damaged hair. Culture is at every corner of the booming city with small town neighborhood cultures embedded in the goods sold.
People become attached to merchandise. Culture is tied to every item. Brooklyn residents and business owners David and Michael DiFilippo found this to be true when family and friends transplanted from the area continued to request care packages for premium extra virgin olive oil from area grocers, as well as various commodities from former neighborhood retailers and salons. As a result, BrooklynTransplant.com evolved. "Our products are not unique brands in New York, but are the most cherished by Brooklyn Transplants," DiFilippo said.
When residents find a customized product that works well, demand is high. Cooking ingredients, such as olive oil, Tuscan or Italian, can make or break a perfect dinner entrée. Finding the best deep conditioner for damaged hair is definitely a challenge. Once a product is found, the thought of losing it due to a move poses a serious problem for consumers.
BrooklynTransplant.com evolved to continue ongoing relationships with relocated customers and small business owners. Driven to bring healthy gourmet foods and hair care products to an online market, the store features premium extra virgin olive oil, tomato sauces, and authentic Italian cookies online. With niche products comes diversity, explaining why the website also supplies the best deep conditioner for damaged hair, cleansers, and hair oils for styling. Striving to keep Brooklyn culture alive, this family-owned business accepts requests for additional products to add to the online store. "If you can't get it here, you can't get it anywhere," DiFilippo said.
For more information on specialty products from Brooklyn, please visit BrooklynTransplant.com.
About BrooklynTransplant.com:
Founded by brothers, David and Michael DiFilippo, this family owned business specializes in acquiring products from Brooklyn-area specialty shops. Family owned and operated, BrooklynTransplant.com strives to assist former residents of Brooklyn in obtaining must-have items from local retailers.
###