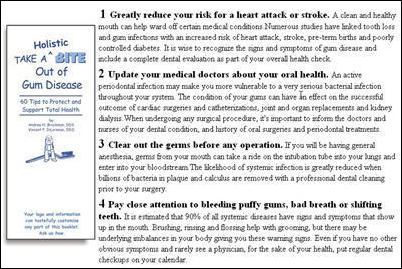 Reining in Healthcare Costs: A Dental Advocacy Approach
Philadelphia, PA (PRWEB) January 19, 2007
Easy-to-read informative booklets that explain gum disease and the connections to an individual's general health are now available for companies to offer employees as part of their health and wellness initiatives.
"Take a Holistic BITE Out of Gum Disease" includes tips to recognize signs of the disease, treatment options, and how consumers can help reduce risk factors for heart attacks, stroke, diabetes, pneumonia, and pre-term births -- conditions that represent a large percentage of what companies spend on employee's health care.
Created by two health-conscious dentists, the "goal was to produce entertaining yet strong, clear holistic dental health tips that could improve health and save on healthcare utilization and dental and medical expenditures," says Dr. Andrea Brockman, President of OraMedica International, LLC.
OraMedica's founders developed and designed the series of oral health tips booklets, based on their 25 years in dental practice treating medically compromised patients and teaching dental health and wellness to people with chronic health problems.
"We thoroughly evaluated each tip for overall appeal, comprehension, appropriateness and health supportiveness," said Dr. Vincent DiLorenzo, CEO of OraMedica International, LLC.
A whitepaper, "Reining in Healthcare Costs: A Dental Advocacy Approach" provides employers with information on how dental booklets are an easy, effective, and economical way to contain healthcare costs and improve employee productivity. The paper can be downloaded at http://www.oramedica.com/whitepapers.html
About OraMedica International, LLC
OraMedica International, LLC (http://www.oramedica.com) is a dental health and wellness company that provides dental advocacy educational products, programming, and insurance strategies for business, organizations, and insurance companies to lower healthcare costs and increase productivity in the workplace. Employers are offered a health-cost-containing risk-lowering dental benefit that is a critical yet missing component to most corporate health and wellness initiatives.
This press release was distributed through eMediaWire by Human Resources Marketer (HR Marketer: http://www.HRmarketer.com) on behalf of the company listed above.
###