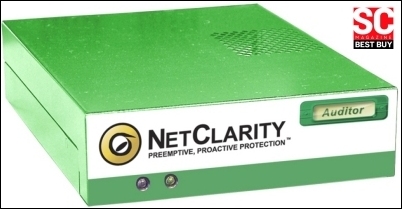 We knew we picked a winner with NetClarity. These Branch appliances are small, yet powerful, efficient and economical. They provide our hosting customers a level of protection they could not otherwise afford
Bedford, MA (PRWEB) January 29, 2007
NetClarity, Inc. (http://www.netclarity.net), a leading provider of proactive vulnerability management and intrusion prevention network security products and services, today announced that on the heels of the Best of 2006 Product Award for the Auditor Enterprise vulnerability management appliance line it has received another coveted BEST BUY award and Five Stars across the board for the Auditor Branch appliances. These Branch appliances are the world's first patent-pending micro-appliances for Vulnerability Management, each the size of a thick paperback book and able to fit in the palm of your hands.
"SC Magazine's lab independently reviewed our tiny new Branch Auditor against some of the heavyweights in vulnerability management and found no flaws in our product, giving our product the highest possible score," said Gil Roeder, Chairman & CEO, NetClarity, Inc. "This is a testament to our CTO's vision and our Engineering team's ability to deliver. We are extremely honored."
"We knew we picked a winner with NetClarity. These Branch appliances are small, yet powerful, efficient and economical. They provide our hosting customers a level of protection they could not otherwise afford", said Aaron D. Sawchuk, Founder & CTO, Colospace, Inc.
In the past year, NetClarity's Auditor Enterprise appliance line has received a number of awards including the coveted BEST BUY award as well as a perfect 5 STAR product review in all six categories, during an independent test by SC Magazine against leading competition.
A downloadable PDF reprint of this review is available online at http://www.netclarity.net/Branch5Stars.pdf
About NetClarity, Inc.
NetClarity is a leading provider of vulnerability management, intrusion prevention and network admission control (NAC) products that provide preemptive, proactive network protection. The company's Auditor line of appliances has received widespread recognition, including two Best Buy Awards, 5 Star ratings, and Best of 2006 from SC Magazine and according to CRN is one of the Who's Who in NAC. Auditor enables customers to clearly see and better protect their network assets, identifying with pinpoint accuracy the root causes of data leakage, regulatory compliance gaps and network downtime using MITRE's CVE® standard. Based in Bedford, Massachusetts, NetClarity is privately held. For more information, visit http://www.netclarity.net/
About ColoSpace, Inc.
ColoSpace is a leading provider of Application Hosting, Colocation, and Disaster recovery services in New England. Headquartered in Rockland, Massachusetts, ColoSpace operates a network of five Internet Data Centers (IDCs) throughout the region. From these IDCs ColoSpace deploys high availability services to firms located throughout the world. ColoSpace's customers include some of the largest firms in the Financial Services, Healthcare, and High Technology industries. Founded in 2001, ColoSpace is led by a team of industry veterans and has followed a path of exceptional growth and continuous profitability. Visit us online at http://www.colospace.com/
For media inquiries or to find the appropriate spokesperson:
Contact: Brenda Omel
NetClarity, Inc.
781-276-4555
NetClarity, Auditor, and the NetClarity logo are trademarks of NetClarity, Inc. All rights reserved. All other marks may be the property of their respective titleholders.
# # #