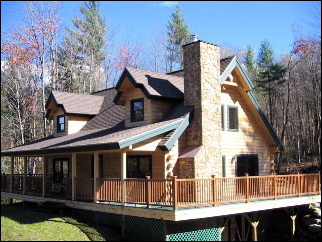 We harnessed that collective power by asking them to share what they've been dreaming up and used the best ideas to create the ultimate getaway.
New York, NY (PRWEB) January 20, 2007
Field & Stream will showcase its new Dream Cabin in the February issue hitting newsstands on January 23.
The Dream Cabin, is ideal for sportsmen or family vacations, and is the culmination of a year-long collaboration between Field & Stream readers, online visitors and Northeastern Log Homes, a leading manufacturer of log homes and cabins (http://www.northeasternlog.com) headquartered in Groton, VT.
The Field & Stream Dream Cabin was built at Sterling Ridge Resort in Jeffersonville, Vermont from a kit manufactured by Northeastern Log Homes. The complete kits are now being made available to the public and include logs that are pre-cut and numbered, interior walls and stairs, roofing, windows and doors, decking and other components. The kits retail for $106,000 says the manufacturer and will be part of the company's Premiere Dream Cabin Series. For free literature and details on this or smaller cabin kits, telephone 800-624-2797, or visit http://www.northeasternlog.com.
"This project has given us the opportunity to design a Dream Cabin model that appeals to customers who want more amenities and comfortable living space for six adults or two families," says Gary Jordan, who heads the Northeastern Log Homes design team. The Dream Cabin offers 1,800 square feet of living space and daylight basement to accommodates additional guests and storage of ATVs, boats and snowmobiles.
To develop the new Dream Cabin design, thousands of outdoorsmen weighed in with the features they would most like to see in their own dream cabin through the magazine's website, http://www.fieldandstream.com.
Said Liz Burnham, Marketing Director for Field & Stream (http://www.fieldandstream.com), "Northeastern is a natural partner for us on the project because of their level of service and commitment and the ability to deliver beautiful log cabins and homes that are truly the stuff dreams are made of."
Dream Cabin partners also included: Home Depot's Ridgid Tools; Cabot Stains; Sentry Safe; Dickies casual & work clothing; Igloo Coolers; ReddiForm, insulating concrete form systems, Butler, NJ; CorrectDeck, Biddeford, ME; Owens Corning Roofing Shingles, Fiberglas Insulation and Cultured Stone products; JeldWen and ThermaTru Doors; Andersen Windows; Congoleum flooring; Continental Products exterior stains and caulking; Saint Gobain log gaskets; H.O Bouchard Trucking, Hampden, ME, and Brockway Smith Co., Portland, ME; OMG fasteners, Springfield, ME; Fastenal, Ruud Water Heaters, Utica Boilers, Eemax on-demand water heaters, Moen Faucets and Bath Accessories, Bass Pro Shops and Hurd's Antler Art, White River Jct., VT.
In addition to the Dream Cabin, 12 rental units from Northeastern's Camp & Cabin Series are available for overnight guests at Sterling Ridge Resort, near Stowe, Vermont.
"Field & Stream readers invest a lot of time working on their hunting and fishing cabins or dreaming about the one they'd like to own," said Sid Evans, editor-in-chief of Field & Stream. "We harnessed that collective power by asking them to share what they've been dreaming up and used the best ideas to create the ultimate getaway."
For more information on the Dream Cabin, visit fieldandstream.com or northeasternlog.com.
ABOUT FIELD & STREAM (http://www.fieldandstream.com):
Field & Stream, The World's Leading Outdoor Magazine, is the largest and most recognized outdoor publication in the world. Devoted to the complete outdoor experience and lifestyle, Field & Stream gives its readers the knowledge and inspiration to pursue the sports they love. It celebrates the outdoor experience with great stories, compelling photography, and sound advice while honoring the traditions hunters and fishermen have passed down for generations. Established in 1895, Field & Stream is the country's largest-circulation special-interest magazine and is published 11-times per year by Time4 Media™, a subsidiary of Time Inc., which is a wholly owned subsidiary of Time Warner Inc. (NYSE: TWX).
ABOUT NORTHEASTERN LOG HOMES (http://www.northeasternlog.com):
Northeastern Log Homes was founded in Groton, Vermont, in 1972 and has become one of the nation's leading designers and manufacturers of Log Homes -- from Custom Luxury Models to Vacation Homes and Cabins. Over the past three decades, Northeastern has been at the forefront of log home technology and innovation, Homes and Cabins are manufactured at the company's 60-acre production facility in Kenduskeag, Maine shipped anywhere in the US and the world. Charter member of the Log Homes Council of the National Association of Home Builders. Visit the factory or conveniently showrooms and models in Maine, Vermont, Massachusetts, Kentucky and a growing network of Certified Sales Representatives throughout the Mid West. For details, see http://www.northeasternlog.com or tel. 800-624-2797.
Editorial Contacts:
Jay Cassell
Deputy Editor, Field & Stream
212-779-5337
jay.cassell (at) time4.com
Dick Pirozzolo
Media Relations Director, Northeastern Log Homes
781-235-9911
dick (at) pirozzolo.com
###