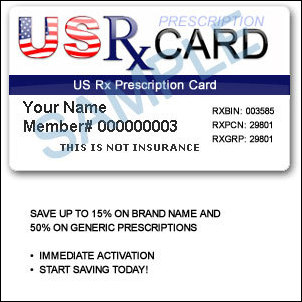 Houston, TX (PRWEB) January 21, 2007
UnitedStatesRXCard.com introduces a free prescription drug savings plan available at no cost to anyone in need of prescription benefits. Website visitors can create a free personalized RX card from the website and use it the same day to receive savings on both generic and brand name medications. This program offered by http://www.UnitedStatesRXCard.com was designed to provide assistance to those who are unable to afford or qualify for traditional insurance or benefit packages.
There are approximately 50 million individuals that remain uninsured in the United States and the cost of insurance premiums and medical services continue to rise significantly. The number of uninsured Americans continues to grow despite increased attention and public awareness of the worsening situation. Almost 1 in 6 individuals now living within the United States do not have necessary coverage for their medical needs such as prescription medications.
In addition to the savings on medications, Visitors that sign up at UnitedStatesRXCard.com will receive free basic access to WorldDoc, an online health maintenance website. This valuable resource offers an abundance of information about health and medical related issues. For example, these tools can help with weight loss, quitting smoking, lowering cholesterol or blood pressure levels, reducing pain and inflammation, coping with and treating symptoms of thousands of illnesses, and much more.
The UnitedStatesRXCard.com prescription savings program is available to anyone online regardless of age, gender, race, occupation or choice of lifestyle. Also, there are no restrictions on usage so that an individual or family may use the card as many times as needed. The program can be presented at 98% of all pharmacies in the United States including most major chains like Wal-Mart, Costco, Walgreens, Rite-Aid, and CVS, for instance.
To receive a free prescription savings card from UnitedStatesRXCard.com, simply visit http://www.UnitedStatesRXCard.com/4732 and fill out the brief information request. One can print the personalized RX card produced on screen and take the printout to their pharmacy to receive the savings benefit. The cost of the medication will be reduced at the time of billing and any balance remaining will require payment at the point of service.
UnitedStatesRXCard.com is a prescription benefit promoter based in Houston, TX. For more information go to http://www.UnitedStatesRXCard.com.
###