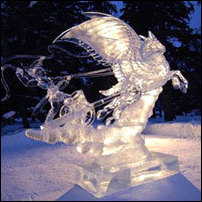 The Banff Winter Festival is the ideal chance for visitors to enjoy incredible entertainment, activities, sport and cuisine in one of the world's most beautiful settings
Banff, AB (PRWEB) January 22, 2007
As the Canadian Rockies enjoy one of their best snow seasons ever, get ready to join in the fun at the 90th annual Banff Winter Festival. From Jan. 26 to Feb. 4, Banff and Lake Louise will welcome visitors from around the globe for a 10-day fusion of fun that celebrates the best of winter in Alberta and the Canadian Rocky Mountains.
The Festival kicks off with a party Jan. 23 and gets into full swing with the 13th Annual Ice Magic International Ice Sculpture Competition at The Fairmont Chateau Lake Louise (Jan. 26 to 28). The world's best ice carvers will gather together as experts transform ice into art. The 'One Carver, One Block, One Hour' competition on Jan. 27 will be followed by final judging and an awards ceremony on Jan. 28.
Visitors to Ice Magic can also enjoy dog sledding, skating and epic downhill skiing, while children can take part in Little Chippers Ice Carving.
The Town of Banff serves as a focal point for much of the Winter Festival, offering a series of competitions, demonstrations and activities designed for visitors of all ages. Whether you prefer to watch events like the Australia Day Ski Race or participate in competitions like the Caesar Salad Iron Chef Challenge, there are plenty of activities to choose from.
Highlights of the Winter Festival include:
Chamber music at the Banff Centre

Line Dancing Lessons and Calf Roping
Snowshoeing
Giant Ice Maze
Cross-Country Skiing
Ice Hockey Shootout
Carriage Tours
Race and Swimsuit Competition at Banff's Upper Hot Springs Pools
Music with DJ Benny Benassi (one of the top 20 DJs in the world)
Free Ski Night at Norquay
Chili Challenge
Spelling Bee and Trivia Challenge
Cardboard Sled Derby
The Festival will play host to internationally recognized musicians including violinist Phillip Graffin, the Jimmy Swift Band, Martyn Joseph, Charlie A'Court and Matt Anderson.
Feb. 2 will see the Mountain Madness Relay Race underway from 1 to 4 p.m. at Banff Central Park, with team members skiing, running and skating their way across the finish line.
Between activities, people can take advantage of the outstanding cuisine offered by Banff restaurants, as well as the area's many amenities including spas, art galleries, resorts, boutiques and gift shops. With a wonderful winter season in full swing, visitors can truly ski Banff by visiting some of the best hills the Canadian Rockies have to offer.
"The Banff Winter Festival is the ideal chance for visitors to enjoy incredible entertainment, activities, sport and cuisine in one of the world's most beautiful settings," says Barbara Heimlich, Media Relations Manager, Banff Lake Louise Tourism. "And since we're enjoying one of the best seasons of snow in years, there's never been a better time to explore the magic of Banff Lake Louise."
Discover exciting packages at http://www.banfflakelouiselive.com/Packages.cfm for this winter season.
For a full list of activities and events, visit http://www.banfflakelouiselive.com/Packages.cfm
Media inquiries can be directed to:
Barbara Heimlich
Manager, Media Relations, Banff Lake Louise
(403) 762-0276
Banff Lake Louise Tourism
Suite 375, Cascade Plaza
P. O. Box 1298
Banff, Alberta
T1L 1B3
###