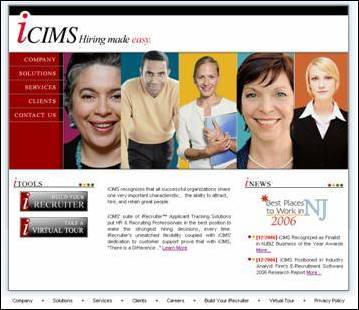 We are incredibly pleased that the SIIA recognizes the power and potential of our iForms engine
HAZLET, N.J. (PRWEB) January 23, 2007 -–
iCIMS, a leading Software-as-a-Service (SaaS) provider, today announced that its iForms engine was selected as a finalist in the 2007 Codie Awards. Presented by the Software & Industry Information Association (SIIA), the Codie Awards recognize outstanding achievement and vision in the software, digital content and education technology industries. iForms was recognized in the Codie's "Best Human Resources Solution" category.
iCIMS is best known for its suite of iRecruiter™ Applicant Tracking Solutions. An extension of iCIMS' applicant tracking technology, the iForms engine provides automated, streamlined solutions to address an array of issues facing HR professionals today. Leveraging the inherent flexibility of the iRecruiter platform, iForms is capable of powering onboarding, succession planning, performance management, surveys, assessments, and other initiatives directly through iRecruiter.
iForms eliminates the time-consuming paper processes that many recruiters are forced to manage on a daily basis. With iForms, these paper driven efforts are fully automated within an organization's iRecruiter solution, streamlining the way recruiters complete, store, and route documentation to and from candidates, hiring authorities, and third parties. iForms takes automated hiring management initiatives to the next level, making the recruitment process easier, less expensive, and more efficient. Examples of iForms include W-4s, I-9s, Reference Verifications, Interview Evaluations, Background Checks, and Recruitment Satisfaction Surveys.
Chris Bartholomew, iCIMS' Director of Research and Development and creator of iForms, credits the company's "Back to the Basics" philosophy towards product development to the SIIA recognition. "iCIMS has consistently approached product development with a mission to build for the good of the technology platform," he said. "Our team's commitment to this philosophy enables us to develop new modules that ultimately enhance the overall platform, providing clients with solutions that are robust, yet are fundamentally easier-to-use and adopt."
Through a combination of journalist and peer review, the Codie Awards recognize 72 categories of products and services. This year, there were more than 1,200 nominations submitted by more than 600 companies.
"Competition is fiercer than ever and that makes selection as a Codie finalist a real achievement," said Ken Wasch, SIIA President. The Codie Awards program, now in its 22nd year, remains the standard-bearer for celebrating outstanding achievement and vision within the industry. Since its inauguration, the Codie Awards has carried forward the same vision – to showcase the software and information industry's finest products and services and to honor excellence in corporate achievement and philanthropic efforts.
"We are incredibly pleased that the SIIA recognizes the power and potential of our iForms engine," said Colin Day, President and CEO of iCIMS. "What parsing tools were to résumés in the early days of HR technology, iForms is to every other paper document used in the hiring management process. This creates a virtually limitless potential for iForms, as the technology can power everything from onboarding to succession planning to performance management and beyond. We thank the SIIA for this recognition and look forward to supporting our clients' ongoing Talent Management needs through iForms."
The 2007 Codie Awards will be presented at a gala event on April 17 at the historic Palace Hotel, San Francisco, CA.
About iCIMS:
iCIMS, a leading Software-as-a-Service (SaaS) provider, is a 2006 Inc. 500 honoree focused on solving corporate business issues through the implementation of easy-to-use, Web-based software solutions. iCIMS' iRecruiter, the industry's #1 Hiring Management Solution for the past three years, provides corporations with collaborative tools that help them attract, screen, and hire the best global talent, giving them an edge over the competition. With more than 425 clients worldwide, iCIMS is one of the largest and fastest-growing solution providers in the space. To learn more about how iRecruiter can help your organization, visit http://www.icims.com.
Trademarks and registered trademarks contained herein remain the property of their respective owners.
This press release was distributed through eMediawire by Human Resources Marketer (HR Marketer: http://www.HRmarketer.com) on behalf of the company listed above.
###