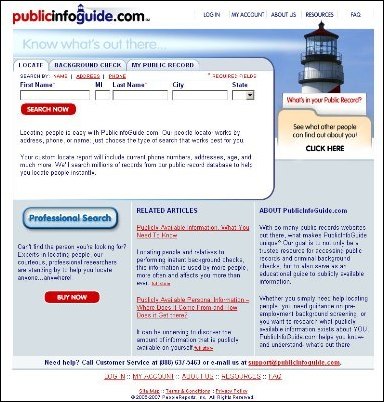 Kalispell, MT (Vocus) January 23, 2007
People Reports, Inc., a Montana-based public information resources provider, announced today its launch of a new website to help people learn more about public information and how the Internet is making their information available to others.
The site, PublicInfoGuide.com, is targeted to a growing audience of savvy Internet users that use public information to find people, perform background checks (including criminal background checks) and learn what information may be available on themselves as well.
The signature product is "My Public Record", a comprehensive report that lets people know exactly what others on the Internet may discover about them through public record research.
PublicInfoGuide.com also features professional people locator services performed by an in-house team of researchers and investigators. People Reports, Inc. General Manager, Jeff Arcel said, "People are becoming more aware that there is a vast amount of publicly available information online. We want to be their trusted resource and guide to the world of publicly available information resources."
PublicInfoGuide.com offers search tools that access hundreds of public record databases along with free reference materials to help people understand what Public Information resources are, how they got there, who owns and manages the information, and what (if anything) can be done to correct errors or omit information from the public record.
Arcel continues, "Our goal is to help people understand and access information easily and cost-effectively. Ten years ago most people didn't know what was in their credit report -- today that information is widely available. Consumers have learned how to get their credit information and why it is important to know what's in their report. We believe that ten years from now, people will know much more about their public information profile and how to manage that information. We see this as an opportunity to help them learn and better understand their public information profile."
Available services from PublicInfoGuide.com include:
"My Public Record" Personal Background Check Report
People Locator Tools & Services
Visit PublicInfoGuide.com more information about PublicInfoGuide.com or contact Jeff Arcel, General Manager, at jarcel @ mypeoplereports.com or at (406) 751-8540.
# # #