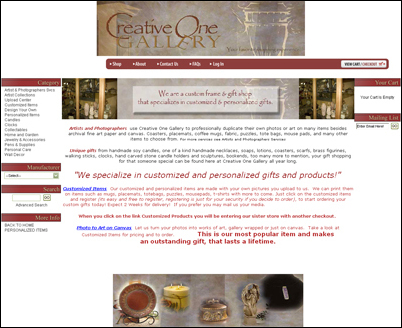 We want to give all artists…whether professional or novice, an opportunity to display their work…by electronically uploading [the file] from their own computers
Sparta, MI (PRWEB) January 23, 2007
A decade ago, software like Corel Paint or Adobe Illustrator and reproduction techniques like giclee fine art printing were familiar only to graphic designers, illustrators, or those in the advertising business. Today, the new digital world has brought creativity to the masses.
CreativeOneGallery.com is proud to announce the opening of its online ordering center, which will allow novices and professionals the ability to place their digital artwork on anything from mugs to canvas.
Thomas and Deborah Owen, the owners of CreativeOneGallery.com, are proud to bring artists a forum for their artwork. "We want to give all artists…whether professional or novice, an opportunity to display their work…by electronically uploading [the file] from their own computers," Deborah says.
Digital art can be used to define anything from web graphics to photography. Professionals and amateurs converge at this intersection of art and technology, discovering new avenues and redefining previously held notions of art. New software is allowing practitioners to break new ground by combining different methods, such as painting and photography, and create into an entirely new artform.
CreativeOneGallery.com realizes that this mixing of mediums calls for a reproduction innovation, which is why they offer commercial-grade services, such as custom giclee printing, to the masses. Giclee fine art printing is a technique that retrieves images from digital scans and reproduces them using age-resistant inks onto various substrates such as canvas, watercolor or photography paper, or even transparent film.
Custom giclee printing uses more colors than a lithograph and gets its name from the French verb "gicler" which means to spray or squirt. In fine giclee printing, instead of delivering limited color in tiny dot form, the larger prism of color is sprayed onto the medium. The result is blended and brilliant color and a more vivid image that gives any piece a museum-quality feel.
CustomOneGallery.com is providing custom giclee printing to all consumers. They provide this service because it allows home digital files to be transformed into display masterpieces. With the new online ordering and processing services, we're able to make giclee printing services available to virtually anyone.
Now that the digital camera and design software is no longer a novelty, CustomOneGallery.com and the established art world is taking a closer look at the artists who create brush strokes with their stylus and tablet.
For more information on fine art giclee printing or other digital photography services, please visit CreativeOneGallery.com.
About CreativeOneGallery.com:
CreativeOneGallery.com offers giclee fine art printing and other photography services, such as custom framing, to professional and amateur artists. Owned by Thomas and Deborah Owen, they can also reproduce electronic art files into such novelties as coffee mugs, mouse pads, and puzzles, for gifts or promotional tools.
###