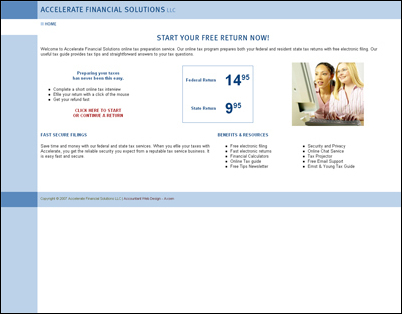 With Accelerate Financial Solutions, you get the reliable security you should expect from a reputable tax service business without paying a premium price
Manchester, CT (PRWEB) January 23, 2007
According to the Associated Press, more than 60% of US taxpayers will have their tax returns completed by paid professionals this year and thousands more will use specialized software to guide them through the completion of their own returns. As it becomes less common for taxpayers to handle their taxes by themselves, the tax preparation industry is getting more and more competitive. Accelerate Financial Solutions, LLC, a newcomer to the online tax service field, is finding amazing success and experiencing tremendous growth by performing all of the most common tax services for less than its competitors charge.
Ricky Frimpong, owner of Accelerate Financial Solutions, LLC, worked for one of the largest tax preparation services for more than three years before pouncing on what he saw as an ideal market opportunity. He asserted that it was possible to offer the same high quality tax services as the major companies without the need for the brick-and-mortar business locations that drive up the cost of service. By helping customers with filing taxes online, Frimpong has been able to serve a greater number of taxpayers in a shorter period of time and for smaller payments.
"With Accelerate Financial Solutions, you get the reliable security you should expect from a reputable tax service business without paying a premium price," Frimpong explains.
Accelerate Financial Solutions, LLC currently features state tax return filing for $9.95 and Federal return filing for $14.95. Taxpayers seeking an extension on their Federal returns can also secure a quick extension for $9.95. Without the need for downloading any software, customers must only complete a short online tax interview and verify the e-File submission of their returns. Taxpayers can count on prompt refunds by filing taxes online with Accelerate Financial Solutions, LLC, and can also take advantage of its online tax service guide, real-time online chat service, tax calculators and the current Ernst & Young Tax Guide. For the safety and privacy of its customers, Accelerate Financial Solutions, LLC employs the latest and most sophisticated security measures on its website.
The company is also publishing a free newsletter filled with tax tips. The latest edition extensively covers all of the changes and additions to the tax laws that will impact 2006 tax returns, including increases in personal exemptions, standard deductions and AMT exemptions.
To learn more about filing taxes online or to review Accelerate Financial Solutions, LLC and its online tax service, please visit afinllc.com.
About Accelerate Financial Solutions, LLC:
Accelerate Financial Solutions, LLC offers taxpayers a quick, easy and affordable method of calculating and filing all state and Federal tax returns. By answering a few questions in a short online interview, its customers can e-File their returns and have their refunds processed faster. Online chat features, e-mail support, extensive site security and the Ernst & Young Tax Guide are all available to give greater value to Accelerate Financial Solutions, LLC customers.
###