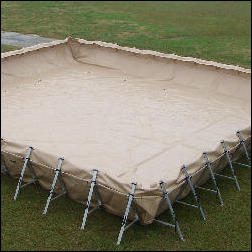 (PRWEB) January 22, 2007
Basic Concepts, Inc. has expanded their spill containment berm offering with the new, economical All Terrain Berm (ATB). The All Terrain Berm (patent pending) is the ideal solution for portable, large volume liquid storage at disaster relief, construction and commercial spill control applications. It may also be used for secondary spill containment of fuel bladders, waste water bladders, and above ground storage tanks. The unit is ideal where large volume spill containment is required in a space/terrain restricted area. It can be deployed in all types of terrain with minimal site preparation by a handful of personnel in a short period of time. Compared to other offerings in the market, it is just as easily disassembled, transported and reassembled. No tools or heavy earth moving equipment are required.
The All Terrain Berm can be manufactured from vinyl or polyurethane coated fabric and custom designed to meet your chemical specifications. The support system utilizes high strength, lightweight extruded aluminum supports. The All Terrain Berm can be produced in containment sizes from 500 gallons to well over 200,000 gallons.
About Basic Concepts
Basic Concepts is a premier company trusted for a wide range of spill containment products for last 16 years. Secondary spill containment products manufactured by the company are used at over two hundred military and hundreds of military installations. For more information contact Basic Concepts, Inc, 1310 Harris Bridge Rd, Anderson, SC 29621, telephone 1-800-285-4203 or visit the company website at http://www.basicconcepts.com where a video of the latest catastrophic failure test is available for viewing.
Contact:
Lee Hill
1-800-285-4203
# # #