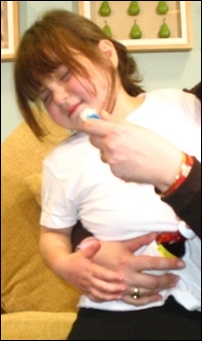 We've found that the most successful FLAVORx pharmacies are the ones that always ask their patients, 'Would you like your medication flavored?' This simple question not only resolves potential compliance issues from the get-go, but also appeals to patients who are excited about having a menu of flavors to choose from
Bethesda, MD (PRWEB) January 24, 2007
Recent pharmacy reports showed that, in December, the most commonly flavored medications were liquid antibiotics. In conjunction with winter weather and the higher probability of infection, not surprisingly, in a sampling of nearly 500 flavorings, Amoxicillin/Clavulanate (Augmentin®) topped the list, followed by Azithromycin (Zithromax®) and Amoxicillin (Amoxil®). These reports also indicate that greater numbers of pharmacies are receiving requests to re-flavor antibiotics that are already commercially flavored by manufacturers. This may be the result of several factors; however, initial studies indicate that it is most likely due to the sensitivity of a child's taste buds and also the result of children preferring the option to choose among a variety of flavors.
Taste, especially among pediatric patients, is a key determinant in achieving medicinal compliance and taking medications properly. In addition, other components such as smell, texture and aftertaste also affect a child's willingness to swallow a medication. Taking medications exactly as prescribed by a pediatrician or healthcare practitioner are essential in antibiotic treatment programs. Failing to do so not only leads to treatment failures and poorer health outcomes, but also contributes to antibiotic resistance.
In a 2004 article in the journal Infectious Diseases in Children, according to Dr. Edward Bell, PharmD, BCPS, "The risk of not completing a liquid antibiotic course likely increases with poor acceptance of taste by the patient."
Taste assessments show that some liquid antibiotic products such as Amoxicillin have commonly scored well in taste tests that evaluate smell, texture, taste and aftertaste. Studies also noted that not all generic antibiotics of the same medication have similar tastes, and many are ranked neither as good or poor. As such, it can be deduced that taste preferences undoubtedly vary among patients, and even many so called 'better-tasting' medications still need to be re-flavored for many children.
During the month of December studies showed that Amoxicillin/Clavulanate was the most commonly flavored medication at 19%, with Azithromycin (13%) and Amoxicillin (12%) following close behind. Other frequently flavored medications included Ranitidine (Zantac®), Cefzil (Cefprozil®), Oseltamivir Phosphate (Tamiflu®), Cephalexin (Keflex®) and Prednisolone (Prelone®).
"We've found that the most successful FLAVORx pharmacies are the ones that always ask their patients, 'Would you like your medication flavored?' This simple question not only resolves potential compliance issues from the get-go, but also appeals to patients who are excited about having a menu of flavors to choose from," says Kenny Kramm, FLAVORx President and CEO. "Flavoring itself is a process that only takes a few minutes, but in the long run saves a lot of time and grief for pharmacists and their patients," Kramm adds.
About FLAVORx
FLAVORx is a pharmaceutical flavoring system used by pharmacists and veterinarians nationwide to improve the palatability of liquid over-the-counter and prescription medications. To date, FLAVORx has flavored over 40 million prescriptions without any incidence of allergy, adverse reaction or changes in efficacy. FLAVORx flavors are non-allergenic, dye-free, sugar-free, phosphate-free and alcohol-free, and comply with FDA requirements, making them safe for all patients. With over 42 flavors ranging from Bubblegum and Watermelon to Chocolate Silk Pie and Peaches 'n Cream, FLAVORx is sure to please any taste bud whether it's a child or an adult. In addition, 16 animal-inspired flavors such as Crispy Bacon and Salmon Steak help medications go down a little easier for FLAVORx's veterinary friends as well.
###