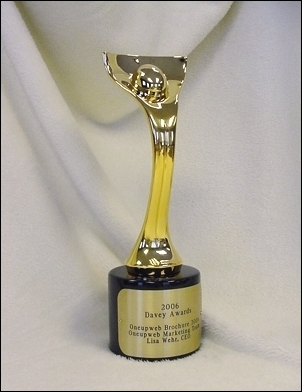 Lake Leelanau, MI (Vocus) January 23, 2007
Oneupweb added another award to what was already a record-setting year, when the International Academy of the Visual Arts awarded a 2006 Gold Davey Award to Oneupweb's creative department for the company's corporate services brochure. With more than 3,500 entries from across the U.S. and around the world, the Davey Awards honors the finest creative work in many categories produced by agencies and companies worldwide.
"We are particularly pleased by this award," says Oneupweb CEO Lisa Wehr. "For one thing, it reinforces to our clients and our staff that the talent available to them is second to none. I'm equally pleased to see us win in a print category. We are frequently known and recognized for our online work. It's nice to display our versatility and see the talents of Oneupweb's gifted individuals recognized."
The Davey Awards are judged and overseen by the International Academy of the Visual Arts (IAVA), a 200+ member organization of leading professionals from various disciplines of the visual arts dedicated to embracing progress and the evolving nature of traditional and interactive media. Current IAVA membership represents a "Who's Who" of acclaimed media, advertising, and marketing firms including: Sotheby's Institute of Art, Yahoo!, Estee Lauder, Wired, Insight Interactive, The Webby Awards, Bath & Body Works, Brandweek, Polo Ralph Lauren, ADWEEK, Alloy, Coach, iNDELIBLE, MTV, Victoria's Secret, HBO, The Ellen Degeneres Show, Myspace.com, and many others.
The Gold Davey Award capped off an award-winning year for Oneupweb. In the Spring of 2006, Oneupweb was named one of the 50 Michigan Companies to Watch by the Edward Lowe Foundation and Michigan Governor Jennifer Granholm. Next, Oneupweb CEO, Lisa Wehr, was named to the B2B Magazine's Who's Who in Search Marketing for a third time. And this past Fall, the company became the first three-time winner of Best Search Marketing Firm as voted by ClickZ.
"It was a wonderful year, for us and our clients," says Wehr.
About Oneupweb
Oneupweb has been an innovator in online marketing for more than a decade, creating integrated online marketing plans that include natural search engine optimization, paid search marketing, podcast production, online market research, marketing analytics and more. An award-winning firm, Oneupweb was named a 2006 Michigan Top 50 Company to Watch and is the only three-time winner of the prestigious ClickZ Best Search Engine Marketing Vendor Award. CEO, Lisa Wehr, an Ernst & Young Entrepreneur of the Year, has been named to BtoB Magazine's Who's Who List three years and is recognized as a Leader & Innovator by Lawrence Technological University. The company publishes an SEO / SEM newsletter OnlineMarketingBrief.com and a blog named StraightUpSearch.com. Oneupweb is a privately held company located in Michigan. For more information on Oneupweb, please contact 231.256.9811 or visit Oneupweb.com.
About The Davey Awards:
The Davey Awards exclusively honor the "Davids" of creativity, the finest small firms, agencies and companies in the world. David defeated the giant Goliath with a big idea and a little rock -- the sort of thing small firms do each year. The annual International Davey Awards honors the achievements of the "Creative Davids" who derive their strength from big ideas, rather than big budgets. The Davey Awards is the leading awards competition specifically for smaller firms, where firms compete with their peers to win the recognition they deserve.
# # #