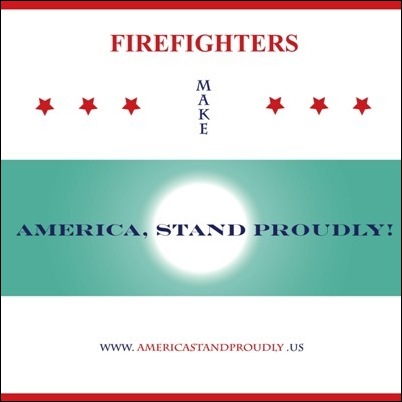 Without question, without hesitation, without thought of personal gain, Emergency First Responders heed our cries for help
Boston, MA (PRWEB) January 22, 2007
To honor their contribution to The State Of The Union, The AMERICA, STAND PROUDLY! Corporation is offering all United States Emergency First Responders a free digital (MP3) download of AMERICA, STAND PROUDLY! from now through February 14, 2007. This American Anthem co-written by husband and wife team Keith and Martha Gibson expresses in joyous music and lyrics what so many Americans feel in their hearts -- passionate patriotism and abiding faith in The American Dream.
Police Officers, Fire Fighters, EMTs, and all Emergency First Responders qualify for this gift. To access the Anthem, please click here.
"Without question, without hesitation, without thought of personal gain, Emergency First Responders heed our cries for help," says Martha Gibson, Founder and President of The AMERICA, STAND PROUDLY! Corporation. "Their contribution to the well-being of The State Of The Union, and to each of our lives, is material. Pause a moment, and think: who among us has not benefited by an emergency first responder?"
Recorded in Boston by Keith Gibson + euJAZZ, John Harrison is the vocalist for AMERICA, STAND PROUDLY! with Charlie Lewis on trumpet, Salim Washington on tenor saxophone and flute, Rollins Ross on piano, Denis Lambert on trombone, Melvin Graham on acoustic bass, and Keith Gibson on drums, timpani and percussion.
Joe Shea, Editor-In-Chief of The American Reporter (http://www.american-reporter.com ) was so stirred by AMERICA, STAND PROUDLY! that he ran it for more than 36 hours on The American Reporter's website at the death of President Gerald R. Ford. "It was a tremendous addition to the respectful tribute we tried to pay to President Ford's memory," says Shea. "I honestly believe that AMERICA, STAND PROUDLY! is destined to become an important march for the future. It is a marvelous, moving piece of work."
Contact:
Tony Trupiano
1-866-209-8031 ext.111
# # #