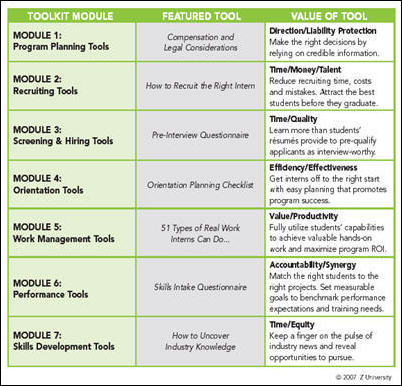 The Blueprint of Internship Success.
Newtown, PA (PRWEB) January 23, 2007
Z University.org (ZU) has established an online Internship Knowledge Center featuring the contents of its newest version of Intern Toolkit™ and its program management methodology, called "The Blueprint of Internship Success."
The Internship Knowledge Center enables users to download and adapt all of Intern Toolkit's contents to make their own. It also features ZU's Blueprint for Internship Success," which features nine building blocks with 36 elements to give employers every advantage to achieve program excellence. Toolkit purchasers may also utilize ZU's expanding collection of internship-related resources -- including supplementary white papers and case studies.
Intern Toolkit is the only complete resource for employers to turn internships into a strategic advantage that increases productivity, improves recruitment, and enriches workforce development. It contains more than 60 components that provide step-by-step guidance to apply a wealth of practical insights, adaptable templates to structure internship programs, and best practices to effectively recruit, train and manage student interns. Developed by Z University -- an innovative workforce readiness company dedicated to improving the quality of internship programs -- the product also features a unique training curriculum to develop students' core business skills.
"We've found that most employers simply lack the resources to create quality internship programs and the guidance to realize their full potential," says Matthew Zinman, president and founder of Z University.org and The Internship Institute. "There's a huge, untapped opportunity to convert intern talent into business gains and enable students to gain essential experience."
Intern Toolkit is made up of seven modules: Program Planning; Recruitment; Screening and Hiring; Orientation; Work Management; Performance Measurement; and, Skill Development Training. It is available for purchase online at http://www.InternToolkit.com. The contents are produced as a spiral-bound guidebook that's highly durable for frequent use and well-organized for easy reference. Its price is based on a one-time site license that makes it affordable for organizations of all sizes.
The product is designed for organizations of any size or industry, as well as for those with and without existing internship programs. Key benefits include: a proven internship methodology to structure and manage programs effectively, productivity systems and tools to fully utilize students' capabilities, adaptable templates and student training curriculum, self-guides for interns to complete work with minimal supervision, and access to ZU's ever-expanding Internship Knowledge Center.
Zinman authored and created Intern Toolkit based on a system he refined through over 20 years of first-hand experience with internship programs and personally managing more than 200 student interns and counting. The Toolkit took nearly three years of research and development and hundreds of hours to compile and organize. He continues to deepen and broaden the Toolkit, as well as develop innovative new internship resources.
"The Internship Knowledge Center is a natural evolution for Intern Toolkit," adds Zinman. "We can now provide users with ongoing product updates, as well as comprehensive online resources to help them make the most of their internship programs."
ABOUT Z UNIVERSITY.ORG
Z University.org (ZU) is making internship programs a powerful remedy to close the gap between classroom learning and workplace competency. In addition to its many initiatives to educate, collaborate and advocate, ZU's primary focus is to innovate solutions that, in effect, remove the barriers for students to gain valuable experience and for employers to gain valuable productivity and better future employees.
Z University developed Intern Toolkit to make it more feasible for employers to create, manage and improve internship programs and all forms of experiential learning. It's by far, the most complete resource to convert student talent and skills into profit for employers and provide vital practical experience and career training for students to succeed as they enter the workforce. ZU is developing more innovative products and resources to fulfill its mission.
Z University.org also established The Internship Institute as a non-profit to champion positive change in every way possible. The Institute's leadership advocacy supports initiatives to promote need to make internships mandatory, to treat and compensate interns fairly, and to encourage employers to assume their inherent social responsibility and motivation to put students to work.
The Internship Institute also aims to pursue opportunities that advance experiential education, create scholarship programs for non-paid interns, formalize its intern mentoring curriculum, perform meaningful market research, provide subsidies to other non-profit organizations, and inspire action among employers, students, and academic professionals to improve workforce readiness.
MEDIA CONTACT
Matthew Zinman, President and Founder
email: mzinman(at)ZUniversity.org, or call 1-877-ZU2GROW (1-877-982-4769)
This press release was distributed through eMediawire by Human Resources Marketer (HR Marketer: http://www.HRmarketer.com) on behalf of the company listed above.
# # #