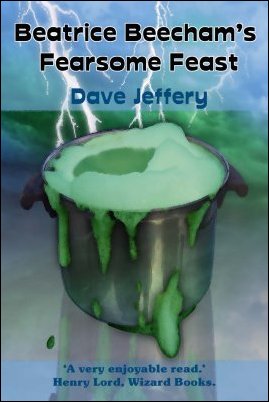 Beatrice Beecham's Fearsome Feast
Blackwell, Bromsgrove, UK (PRWEB) January 25, 2007
Author Dave Jeffery writes a novel geared primarily toward early teens, but which appeals equally to adults. "Beatrice Beecham's Fearsome Feast" is published in conjunction with Lulu, the world's fastest-growing provider of print-on-demand books, with 50% of the royalties going to Comic Relief.
"Beatrice Beecham's Fearsome Feast" is about a young girl whose life is dominated by her passion for cooking. She talks to her favourite TV chefs via an imagined Culinary Council headed by Jamie Oliver. But Beatrice's world suddenly changes and fate steers her family to the remote coastal town of Dorsal Finn. It is a town steeped in tradition. It has quaint customs and quirky inhabitants. But Dorsal Finn is also a place of secrets. Secrets that some want found, but most prefer to keep hidden. When Aunt Maud gives her an old cookbook as a welcome gift, Beatrice finds more than just old recipes within its pages. She discovers a cry of help from the past which promises to be a terrible portent for the present.
"I wanted to create a story which rekindles the concept of a classic mystery for children," said author Dave Jeffery. "This concept is something conventional publishers are unsure of in the current market. In many ways it would have been easier if, when I sent in the manuscript to various publishing houses, I had received the standard form rejection letter, but this wasn't the case. The editorial feedback was consistently positive and complimentary, and in some instances the response seemed almost rueful that they wouldn't be able to publish it."
"In truth, now that it's published, I'm glad I did it this way. Overall I see it as a process of empowerment. There's a kind of a punk ethic to self publishing which appeals to me. I feel that Lulu.com is a great source of advocacy for new writers."
Regarding the Comic Relief donation, Dave said, "I have a desire to empower people as well as entertain them. This seemed an appropriate way to do it."
"Beatrice Beecham's Fearsome Feast" is available for purchase at Lulu.com from January 30th 2007, in a marketplace filled with other unique and wonderful surprises.
About the Author
Dave Jeffery has published conventionally with Wiley and Sons, as well as articles in the UK nursing press. He has worked in the mental health practice for twenty-one years. He is currently working on "Beatrice Beecham's Fete of Fate," the second in the 'Beatrice' series, as well as "Finding Jericho," a novel based upon his work in mental health. Both novels will be published through Lulu over the coming year.
About Lulu
Founded in 2002, Lulu is the world's fastest-growing print-on-demand marketplace for digital do-it-yourselfers. Please see http://www.lulu.com for more information.
Media Contact:
Dave Jeffery
+44 (0) 787-150-6745
justineanddave-at-btinternet.com
http://people.lulu.com/blogs/view.php?blog_id=262599
###