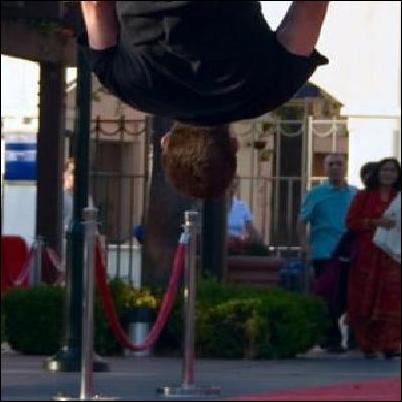 San Diego, CA (PRWEB) January 24, 2007
Independent Filmmaker Mazedude of Suassuna Park Capoeira has started generating revenue by uploading his films & videos on SMS.ac.
Mazedude is a talented video-grapher and Capoeiraist. Capoeira is a Brazilian Martial Art involving music, singing and sparring. Mazedude captures the beauty of his passion for this sport in his films and videos. His depictions of the art and portrayal of the community around it are enjoyable to watch and it is astonishing to witness the athleticism involved in the sport.
Mazedude's artistic videos are being streamed online around the world using a pay-per-view system developed by the San Diego based company, SMS.ac. SMS.ac's unique system uses a pay-per-view model that streams videos online to its 50 million member base of film & video enthusiasts. This allows him to generate revenue and exposure to SMS.ac's worldwide audience.
"SMS.ac has opened doors I didn't think possible for the display of my work. The fact that my productions are now earning money - and are being distributed on an international basis, is just really cool," says Mazedude.
For more information, contact Kathee Austin at 1-480-998-0246 or visit SMS.ac's website at http://www.sms.ac/.
About Mazedude:
Mazedude is an artist from Tarzana, CA who is living his dream of doing "a little of everything". He is involved with everything from acting and stunt work, video and DVD production, and music to sound for movies. His credits include producing the soundtrack to an award-winning B-movie, "The Bloodletting" and producing Capoeira DVDs such as Batizado III and Citywalk Capoeira.
About SMS.ac:
SMS.ac is the world's largest mobile community and marketplace, meshing together a growing, interactive society of 50 million members in 180+ countries with hundreds of mobile operators to create a global wireless communications network for the exchange of information, products and services.
Contact:
Kathee Austin
(480) 998-0246
###