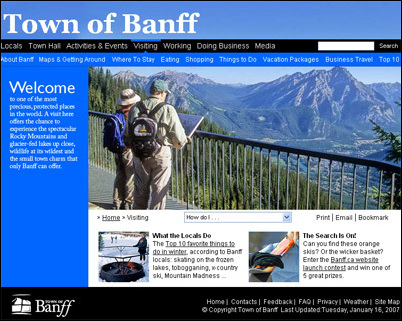 For years, visitors to our website have been disappointed with having to click around all over the web to find the whole story on Banff
Banff, Alberta (PRWEB) January 25, 2007
Today, the Town of Banff rolls out a radically new Banff website (http://www.banff.ca ) to the world.
What's so new and unusual?
"Our old site was all about municipal administration and government, and it didn't really capture the spirit of our community and environment" says Mayor of Banff, John Stutz.
"This time around, we've recognized the enormous interest in Banff and Banff National Park from around the world. So we're putting up all the information you could want, whether you live here or you're just visiting Banff."
Following an extremely successful "soft launch" that gathered rave reviews from the local community in Banff last week, Banff.ca now welcomes web visitors worldwide. In particular, Banff invites the many millions of travelers, vacationers, nature and outdoor enthusiasts who hold a warm spot in their heart for all that Banff represents, including its spectacular mountain setting.
"For years, visitors to our website have been disappointed with having to click around all over the web to find the whole story on Banff," says Town of Banff manager of marketing and communications, Michelle Gurney.
"Our site users told us loud and clear that they want to find complete Banff information, all in one place. And they want the site to look and feel more like Banff. That's what we have delivered."
The new Banff.ca features:
accurate current weather and forecasts for Banff (right on the home page)
tourism and trip-planning information for every season (where to eat, shop and stay)
overviews of the events and activities that make Banff unique
gorgeous photographs that will change with the seasons
complete hiking trail guides courtesy of Summerthought Publishing
a large selection of downloadable maps
a job board for those looking to work in Banff
top 10 lists, such as the top 10 things locals do in winter and summer
a media section for journalists
To encourage new users to explore the site, Banff.ca is running an online contest, "Search is On," through Jan. 31, 2007. This easy 5-question contest guides visitors through the site on a hunt for a variety of Banff icons. Prizes include an iPod Shuffle, a vacation package courtesy of The Fairmont Banff Springs Hotel, a town bike, Canadian Rockies Trail Guides and skating passes for Banff Ice.
"Banff is an unusual case, a small town with a population of just a few thousand, but a worldwide community of interest numbering in the tens of millions," says Banff.ca web administrator Kevin Elliott.
"The challenge for the Banff website is to meet the needs of both those audiences. But it turns out they both want pretty much the same information, so it has worked out great. I think the broader world audience is really going to like getting an insider's look at what Banff is all about."
In developing its new site, the Town of Banff partnered with the Banff Heritage Tourism Corporation, BanffLIFE and ID9 (the municipal region surrounding the Town of Banff and including Lake Louise), and worked with web strategist Prescient Digital Media (Toronto). The development was supported by a Municipal Sponsorship Grant of $149,000 provided by the Alberta provincial government in 2006.
Contact:
Michelle Gurney, manager of marketing and communications
The Town of Banff
403-762-1207
# # #