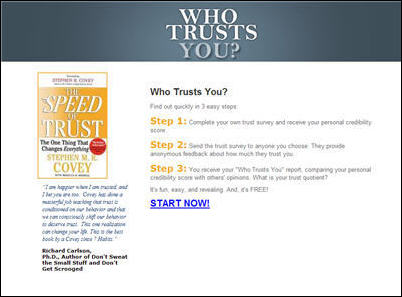 The answer to increasing or restoring trust
New York (PRWEB) January 25, 2007
BusinessWeek selected The Speed of Trust by Stephen M. R. Covey as one of the top 5 career books for 2006. According to BusinessWeek, "Everyone can use some career advice, regardless of age or professional title. The five books that made our list for 2006 run the gamut from general business questions to managing your life outside of work. That range reflects both the increasingly large role that work plays in many people's lives and the continued blurring of boundaries between the personal and the professional."
"The one thing that changes everything in our personal and professional lives is—trust," asserts Stephen M. R. Covey, author of THE SPEED OF TRUST, which is already in its 5th printing less than three months after publication. Covey says that "the ability to establish, grow, extend, and restore trust with all stakeholders—customers, business partners, investors, and co-workers—is the key leadership skill of the new, global economy and a career critical competency." This is an assertion he is qualified to make after growing his father's, Dr. Stephen R. Covey, leadership center into a global enterprise operating in 40 countries and the largest leadership development firm in the world.
A 2002 study by Watson Wyatt shows that total return to shareholders in high-trust organizations is almost three times higher than the return in low-trust organizations — so the stakes are high. Workers that are skilled at building trust are a highly sought-after asset. From a career standpoint, high-trust individuals are much more likely to be promoted, make more money, and be given the best opportunities and projects.
According to Covey, "Leading-edge companies are asking one important question in employee evaluations: Do you trust your boss? These companies have learned that the answer to this one question is more predictive of team and organizational performance than any other they might ask. The number one reason for costly employee turnover is the relationship they have with their immediate supervisor. We are facing a crisis of trust and business ethics. In the U.S., only 51% of employees have trust and confidence in senior management."
Great Places to Work Institute, who partners with Fortune Magazine for their annual 2007 Great Places to Work survey, on newsstands now, says, "Our approach is based on the major findings of 20 years of research—that trust between managers and employees is the primary defining characteristic of the very best workplaces." This is indicative of the importance for career-minded individuals to master the skills of trust. Competition for talent favors high trust people in this increasingly competitive, global economy, and the best employers hire for trust.
Covey cautions, "We are facing a global crisis of trust and ethics on all levels—societal, institutional, organizational, relational, and personal." In 2005, only 54% of consumers in the USA trusted businesses to do the right thing, and only 39% trusted government. In Europe, just 39% trusted businesses and 31% trusted government to do the right thing. This was just highlighted last Friday, January 19th, when The U.S. Senate voted 96-2 to pass a comprehensive overhaul of their ethics and lobbying rules.
"The answer to increasing or restoring trust," says Covey, "is all about consistent behavior and learning how to interact with others in ways that increase trust and avoiding interactions that destroy it." According to relationship expert and author of You Can Be Happy No Matter What, Richard Carlson, Ph.D., "The Speed of Trust has done a masterful job teaching that trust is conditioned on our behavior and that we can consciously shift our behavior to deserve trust." Covey suggests that trust is a learned leadership and career growth competency and has identified 13 behaviors common to high trust leaders throughout the world.
The Speed of Trust outlines the way to establish integrity by identifying the four cores of credibility—the foundational elements that make you believable, both to yourself and others. With a powerful self-analysis questionnaire that prompts readers to seriously evaluate and understand the basic elements of their personal credibility, The Speed of Trust enables readers to improve the four cores in a way that increases trust on every level—from the inside out. To find out who trusts you, take a brief, free analysis at http://www.WhoTrustsYou.com. By focusing on both character and competence, Covey charts the way for leaders to advance their careers by developing integrity and intent, demonstrating capability, and producing results.
Business leaders agree with Covey's assertions on the importance of trust. More than 10 Fortune 500 CEO's endorse The Speed of Trust, including William G. Parrett, CEO, Deloitte Touche Tohmatsu, who said, "The Speed of Trust is red-hot relevant. In an age of heightened business regulation and oversight, it is important to focus on fundamentals. And trust is the intangible asset that can help assure the long-term sustainability of any person, organization, or enterprise. Thanks to Stephen M. R. Covey's new book, you can be well on the way to enhancing your organization's trust assets for years to come."
This press release was distributed through eMediawire by Human Resources Marketer (HR Marketer: http://www.HRmarketer.com) on behalf of the company listed above.
###