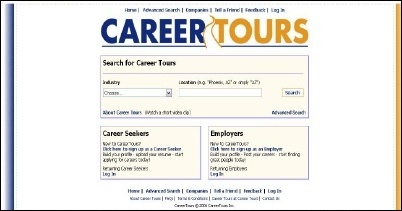 Phoenix, Arizona (PRWEB) January 25, 2007
CareerTours, a national recruiting resource, has recently launched over 12,000 new Career Tours for job opportunities across the US on its website, http://www.careertours.com. The opportunities represent 50 industries across 234 cities. Since its national website launch on January 15th, CareerTours has continued to support its core value of "frictionless". The company has found that the best way to remove friction from the recruiting process is by helping organizations create "experiences" for potential candidates. These experiences are available via virtual or on-site tours.
Virtual tours incorporate radio and TV to tell the companies' stories while on-site tours provide a true "day in the life" experience. Candidates have the ability to sign up for multiple career tours within the industry and city where they want to work, and employers will have access to a larger pool of targeted candidates for their open positions.
The CareerTours' unique word-of-mouth marketing tool is driving candidates to the site to view these opportunities. This tool helps organizations utilize the social networks of existing employees and applicants to grow their databases of career seekers.
"Social networking has become one of the most dynamic uses of the web and it is only logical to extend its reach into the realm of recruiting. We are utilizing the growth of social networking to fill all 12,000 Career Tours with qualified candidates" said Aaron Bare, CEO of CareerTours.
Career Seekers interested in new careers can view employers and create online profiles at http://www.careertours.com.
About CareerTours
CareerTours (http://www.careertours.com) is a "frictionless" organization that connects top talent to the best organizations. The mission of CareerTours is to be the #1 supplier of new talent to its clients and to be the best resource available for career seekers.
This press release was distributed through eMediawire by Human Resources Marketer (HR Marketer: http://www.HRmarketer.com) on behalf of the company listed above.
###