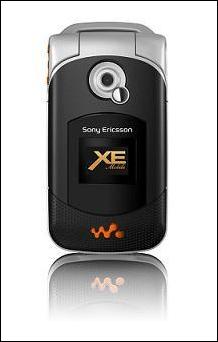 This makes our W300 Walkman® phone that much more attractive
New York, NY (PRWEB) January 30, 2007
XE Mobile, the nation's sexy, new pay-as-you-go wireless service designed to meet the needs and lifestyles of the youth and college age market, shipped the first Sony Ericsson Walkman® phone for the pay-as-you-go market last week to select music retailers, supercenter stores and office product places.
"Digital music is everywhere and we now have the ideal way to listen to music on a mobile phone without incurring additional costs of downloading music from a service provider," said the rocking 24-year-old president and CEO of XE Mobile. "The Walkman® product line resonates well with our target market and with no contract or commitment required, not to mention attractive pricing of only $99, it's 'music to the ears' for our XE members."
According to a research study by Telephia, the total number of U.S. mobile subscribers who possess music-enabled cell phones has grown to 23.5 million, growing an astonishing 400% in the past year alone. Musical cell phones now account for 20% of all handset purchases in America, and while many of these customers load music onto their phones via a PC, only around 8.5% have taken advantage of over-the-air wireless music downloads. "This makes our W300 Walkman® phone that much more attractive," added Ghermezian.
The W300 Walkman® phone offered by XE Mobile offers the same great Walkman® music quality experience as high-end models, in a compact and eye catching, clamshell design. The handset, which supports both MP3 and AAC music files, provides a great sound experience with up to 30 hours of music listening. The experience for XE members is enhanced by direct music keys, shuffle function, as well as a built-in FM radio with RDS and flight mode. Sony Ericsson's Disc2 phone software supplied with the handset allows XE members to easily transfer their favorite CDs to their mobile phone and enjoy them anywhere, anytime without missing a call.
The W300 Walkman® phone offered by XE Mobile is loaded with features including a removable 256MB Memory Stick Micro™ (M2™) expandable to 1GB, as well as a stereo headset, USB cable and music management software. Media player information and caller ID details can be accessed from the front of the clamshell, without opening the phone. In addition to the great music features, the handset has an integrated camera with 4x digital zoom for XE members to take and view photos or record videos and Bluetooth® technology, ideal for sharing data with other Bluetooth-enabled devices.
XE Mobile prides itself in offering a fun and affordable wireless solution that includes nationwide coverage with straight-up rates and access to the nation's largest youth discount program.
XE Mobile rates start as low as 10 cents per minute, with up to 250 free incoming minutes each month, unlimited free incoming text messages and international long distance rates from only five cents per minute. Members are never locked into any contract or plan and can easily adjust as their wireless service needs change throughout the year. Included free with the purchase of every phone with XE Service is the XE Club Card, the nation's most widely accepted discount program for youth. The XE Club Card, with a $40 value, provides members with exclusive discounts of up to 50% off at more than 21,000 retailer locations around campuses and national businesses, as well as online merchant providers. Participating partners include Target.com, Microsoft, FYE Music Stores, DELL, ArmaniExchange.com, Urban Outfitters, Barnes n' Noble, Greyhound, Foot Locker and more.
"XE Mobile was quick to pick up on the popularity of music on the go and we're honored that they turned to Sony Ericsson to bring the W300 to their members. It's an ideal target market for us too," said Paul Hamnett, vice president, sales, Sony Ericsson Mobile Communications Inc. (USA).
About XE Mobile
XE Mobile is an emerging leader in the telecom industry offering nationwide pay-as-you-go wireless for the youth and collegiate market. With flexible service pricing options and access to a broad range of wireless content applications, XE Mobile is available through a variety of distribution channels nationwide including FYE Music Stores, Sam Goody, Office Depot, Meijer and more than 600 college campuses. XE Mobile is an affiliate of and is financially backed by Triple Five Group of Companies (http://www.triplefive.com). Triple Five's portfolio includes Mall of America, the largest mall in the United States and West Edmonton Mall, the largest mall in the world. For more information or to get your XE phone, please visit http://www.xemobile.com or call 1.877.99.GET.XE.
Compatible service and service agreement required for operation. The Sony Ericsson marble logo is a trademark or registered trademark of Sony Ericsson Mobile Communications AB. Sony is a trademark or registered trademark of Sony Corporation. Ericsson is a trademark or registered trademark of Telefonaktiebolaget LM Ericsson. The WALKMAN® logo and symbol are registered trademarks of Sony Corporation. The Bluetooth word mark is a trademark of Bluetooth SIG, Inc. and any use of such mark by Sony Ericsson is under license. All other marks are the property of their respective owners.
# # #