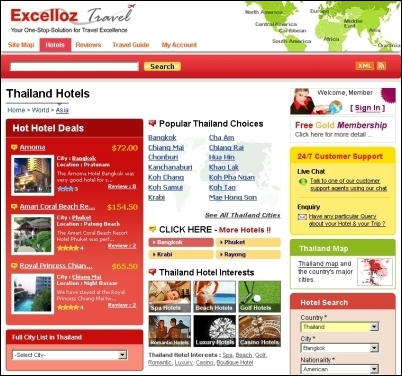 We have worked hard on improving the user experience of Excelloz.com, including many of the feature requests and improvement suggestions that we have received from our customers
Bangkok, Thailand (PRWEB) January 29, 2007
Excelloz.com, the online hotel reservation website based in Thailand, introduces a new promotional offer that runs until the end of February. Every person who registers on the Excelloz website for free until the end of February will automatically be upgraded to Gold member status. This means an extra 5% discount on all hotel bookings for a period of 6 months. There are no obligations or hidden costs.
Excelloz.com has further extended its portfolio of available countries by adding accommodation choices in all countries of the United Kingdom including England, Scotland, Ireland and Wales. Now a wide choice of hotels in fantastic destinations like London, Manchester, Dublin, Glasgow, Edinburgh, Belfast and many other exciting cities can be booked easily on Excelloz.com. Furthermore, hotels in the first country in South America, Chile, has been added and are available for reservation.
By having more and more countries available next to the already extensive Asia hotel offerings in such countries as Thailand or Singapore, Excelloz.com can provide a better experience to travelers worldwide. Hotels are available in different ranges and suitable for all budgets.
Also, the hotel pages of Excelloz.com have been completely redesigned to better suit customer needs. Visiting any country or city page now gives you a much better overview of the available accommodation options. It is possible to directly view pictures from the hotels and their corresponding rates. Not only functional changes have been made but also cosmetic ones as the whole page design increases visibility and user friendliness manifold. "We have worked hard on improving the user experience of Excelloz.com, including many of the feature requests and improvement suggestions that we have received from our customers," says the Marketing Manager.
While having more hotels available throughout Europe, Excelloz still is very strong on the Asian continent where it continues to have a vast amount of hotels available in most countries, many with instant confirmation capability.
With such a vast amount of hotels offered in addition to daily updated travel guides and hotel reviews it was not easy to stay updated. But with the newest feature it gets a lot easier. Excelloz now offers RSS feeds for all of its content. By subscribing to a RSS feed on Excelloz.com users can stay updated on newly added travel content from all around the world. The moment a traveler uploads a hotel review to the website you will get notified by your RSS aggregator of choice. The feeds are available for hotel reviews and travel guides. One can subscribe to feeds from all travel guides that are uploaded or just from a certain city or country. This gives users a wide choice to customize their delivery options of updated travel news.
About Excelloz
Based in Bangkok, Excelloz is a hotel reservation offering highly discounted prices on all hotels, especially on the Asian and Oceanian continents but also recently expanding into Europe and South America. It is committed to deliver the cheapest hotel rates available online together with excellent service. The online reservation process is strongly secured through Verified by Visa and MasterCard SecureCode. Furthermore, Excelloz.com is a GeoTrust Verified domain. In case of any problems, Excelloz will do everything in its power to solve these as soon as possible through its customer service, reachable via telephone, e-mail enquiry or live chat.
For website and company specific news, travel photography, travel news and updates visit the Excelloz Blog.
###